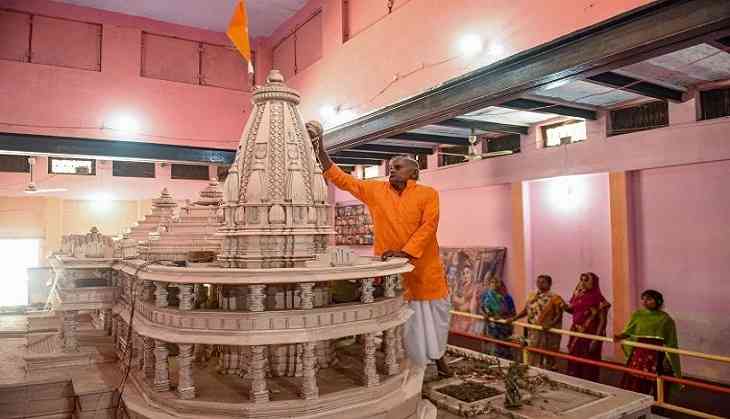 A priest and 15 policemen at the Ram temple site in Ayodhya, where the groundbreaking ceremony for the temple will take place next week, have tested Covid-19 positive.
The Indian Prime Minister Narendra Modi is slated to take part in the ceremony on 5th August, fo which preparations are in full swing.
The Shri Ram Janmabhoomi Teertha Kshetra Trust has put out an appeal to all saints across India to perform puja in their respective temples and Maths from 11.30 am to 12.30 pm on 5th August. The general secretary of the Trust, requested people to watch the live telecast of Bhoomi Pujan on television and light earthen lamps in the evening.
For the celebration on 5th August, 11 priests from Varanasi and Ayodhya will perform the puja. Pradeep Das, priest who tested positive, is not part of this group. The Trust has also resolve to sanitised the entire Ram Janmabhoomi campus sanitised on regular basis.
"There is nothing to worry about. One of the priests who performs daily rituals at the temple site has tested positive. The entire campus will be sanitised on a routine basis," said Mahant Kamal Nayan Das, successor designate to Mahant Nritya Gopal Das, chairman of the Trust.
Around 200 people have been invited for the ceremony. All chief ministers from various states will be called as well. Said Treasurer of the Trust.
BJP's LK Advani and other leaders of the Ram Janmabhoomi agitation will also be invited to the ceremony, said a Trust member.
In Ayodhya, elaborate preparations are being planned for the three-day event at the Ram Janmabhoomi site. The rituals will start on 3rd August and end with a 'bhumi pujan' on 5th August before the construction of the temple begins.
Also Read: UP Chief Minister instructs police, administrative officials ahead of upcoming festivals, Ram Temple bhoomi pujan