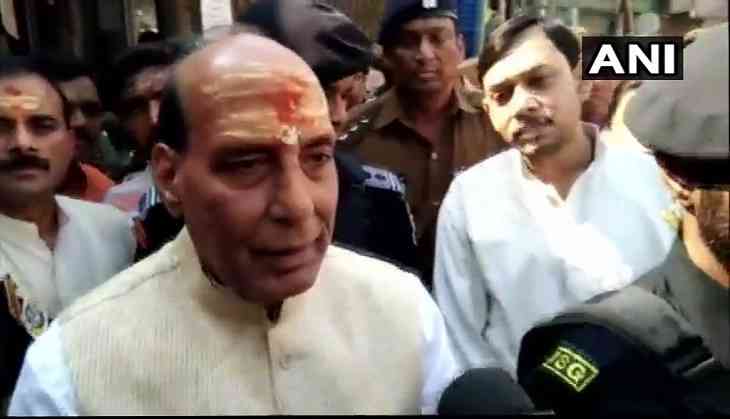 The Ayodhya Ram-Mandir issue has ones again taken a grip just before the election, wherein the commentary by the senior most leaders are taking the centerstage.
The latest in the addition to speak up in the matter is India's Home Minister Rajnath Singh who has said that everyone will be happy if Ram Mandir is built in Ayodhya. Former BJP chief, Rajnath is on a tour to PM Narendra Modi's constituency in Varanasi.
Rajnath Singh had said, "Ram Mandir banega to swabhavik hai sabko khushi hogi."
The politics around the Ram Mandir-Babri Masjid issue has always been there but as the polls are approaching and the Lok Sabha elections are scheduled for next year, most of the right-wing politicians and activist are taking turn to record their statements. The Ram Mandir issue is currently sub-judice and the Supreme Court is looking over the case.
Recently, former working president of the Vishwa Hindu Parishad, Praveen Togadia who was the main flag bearer of the Ram-Mandir construction during the 1992 movement, had formed his own outfit and is now rallying across UP and Faizabad to gain popularity and convince the ruling dispensation of building a huge and beautiful Ram Mandir.
Today, Baba Ramdev commented on the issue and asserted that some good news is in the offing regarding the Ram-mandir and will be delivered in 2018 itself.
He said, "Yadi nyaylay ke nirnay mein der hui to sansad mein zarur iska bill aega,aana hi chahiye.Ram Janmabhoomi pe Ram mandir nahi banega to kiska banega?Santon/Ram bhakton ne sankalp kiya ab Ram mandir mein aur der nahi,mujhe lagta hai isi varsh shubh samachar desh ko milega."
Also read: 'Ram Mandir will be constructed in December and a Masjid will be built in Lucknow,' says Ram Vilas
Ram Mandir banega to swabhavik hai sabko khushi hogi: Union Home Minister Rajnath Singh in Varanasi pic.twitter.com/NMfmsDYzNo

— ANI UP (@ANINewsUP) November 3, 2018
Yadi nyaylay ke nirnay mein der hui to sansad mein zarur iska bill aega,aana hi chahiye.Ram Janmabhoomi pe Ram mandir nahi banega to kiska banega?Santon/Ram bhakton ne sankalp kiya ab Ram mandir mein aur der nahi,mujhe lagta hai isi varsh shubh samachar desh ko milega:Baba Ramdev pic.twitter.com/jrMLRVT7ZO

— ANI (@ANI) November 3, 2018