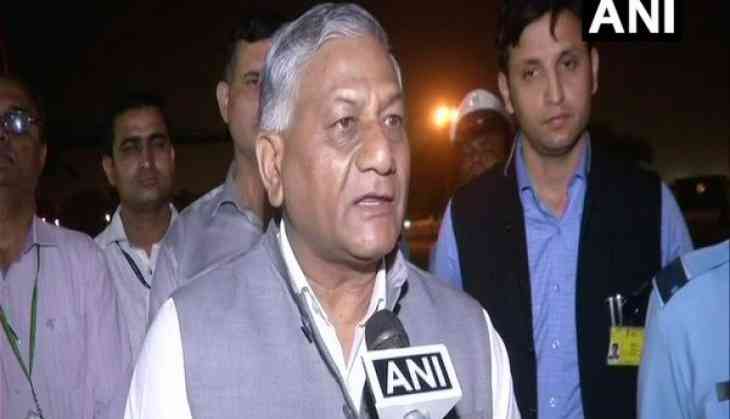 The Ram Temple issue has again glared up in Ayodhya and as more than 2 lakh supporters have gathered, the law and order situation might be created as the UP government has been asked to call in Army.
Instead, Union Minister VK Singh has said that there isn't any requirement of Army deployment, which former CM Akhilesh Yadav has been talking about.
VK Singh told ANI that, "I don't think there is any need for the deployment of Army in Uttar Pradesh as there is enough law and order machinery available there. And I am sure that the BJP government, unlike other parties, will ensure that law and order is maintained."
Remembering the 1992 fiasco which led to a debacle of complete police machinery and the administration became a mere spectator, former UP CM Akhilesh Yadav had said, "The BJP doesn't believe in either the Supreme Court or the constitution. The party can go to any extent. The kind of environment there is in UP, especially in Ayodhya, the Supreme Court should take notice of it and send the Army if necessary."
But, former Army General VK Singh has categorically denied any such need and said that enough machinery is available to tackle any uphill situation.
UP's ADG (Law and Order) has briefed the media about the security arrangements, stating that "Heavy deployment of CAPF(Central Armed Police Forces), PAC(Provincial Armed Constabulary), ATS(Anti-Terrorism Squad) has been done.Drone cameras being used to assess crowd. 13 parking spots have been designated, 2000 buses from various places have come to Ayodhya."
Earlier, Shiv Sena leader Sanjay Raut, while raising the Ram Temple bar has said that, "We demolished the Babri masjid in 17 minutes, how much time does it take to draw up papers? If you talk about an ordinance, then from the President's House Rashtrapati Bhavan to Uttar Pradesh, it is BJP all the way. What else do you want?"
Also read: Ayodhya Dharam Sabha: VHP begins massive rally, dares BJP government over Ram Temple; says 'humare sabra
There's enough law & order machinery available. I'm quite sure the govt being that of BJP, unlike other parties, will ensure that law and order is maintained: MoS MEA, VK Singh on Akhilesh Yadav's statement that 'Army should be brought in Ayodhya if required.' pic.twitter.com/ct5fPtBw51

— ANI (@ANI) November 25, 2018
Heavy deployment of CAPF(Central Armed Police Forces), PAC(Provincial Armed Constabulary), ATS(Anti-Terrorism Squad) has been done.Drone cameras being used to assess crowd. 13 parking spots have been designated, 2000 buses from various places have come to Ayodhya: ADG (law&order) pic.twitter.com/iQgKnB2VuT

— ANI UP (@ANINewsUP) November 25, 2018