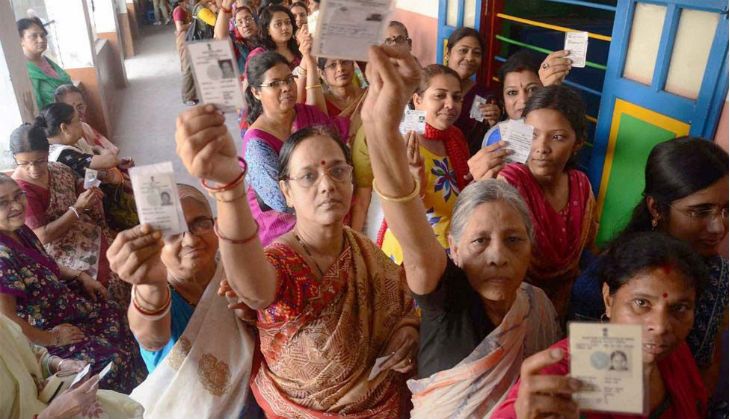 Voting for the second and final phase of assembly elections kicked off in Assam on 11 April. A total of 1.4 crore eligible voters are expected to exercise their franchise in this phase - which will see 525 candidates in the fray.
Additional CEO Nitin Khade said that central armed police forces have been deployed at almost all polling booths and that adequate security measures have been put in place ahead of the polls. 
Most of seats are likely to witness a fight between the BJP-Asom Gana Parishad-BPF alliance, the AIUDF and the Congress-UPP combination.
Among the prominent candidates are: Asom Gana Parishad leader Prafulla Kumar Mahanta from Bahrampur, Congress leader Rockybul Hussein from Samaguri, BJP leader Himanta Biswa Sarma from Jalukbari and AIUDF Chief Badruddin Ajmal, who will contest from the North Salmara seat.
West Bengal Assembly elections
In West Bengal, security has been beefed up for the second phase of voting on 11 April for 31 Assembly seats in Paschim Medinpur, Bankura and Burdwan districts. 
Polling will be held in 13 constituencies of Paschim Medinipur, 9 of Burdwan and 9 in Bankura district. Approximately 70 lakh voters are enrolled to decide the electoral fate of 163 candidates, including 21 females.
Chhatna seat in Bankura will see the highest number of candidates in the fray - 10 - while the lowest - three candidates - will fight it out for Keshpur in Paschim Medinipur.
All the seats are poised for a contest between the ruling Trinamool Congress, the BJP and the Left-Congress combine candidates. The BJP and TMC have put up candidates on all the 31 seats. The CPI(M) candidates are contesting on 19 leaving one seat each for CPI, RSP and Forward Bloc and 8 for Congress.
Congress' ten time nonagenarian MLA and former minister Gyan Singh Sohanpal and state BJP chief Dilip Kumar Ghosh are locked on Kharagpur Sadar seat while prominent CPI-M candidate Surjya Kanta Mishra and Congress leader Manas Bhunia are trying to retain Naraingarh and Sabang seats, respectively.
Pingla, Bishnupur and Asansol Uttar are also among the key constituencies in this round of polling as three members of the outgoing Mamata cabinet are locked in three-cornered fight.
In all, 350 companies of Central security forces have been deployed to ensure peaceful, free and fair voting. State Additional CEO Dibyendu Sarkar told AIR that Central forces have been deployed at all the polling stations to ensure free and fair polling.
The local police will maintain the voters' queues outside the booths. Interstate borders along the three districts have been sealed and aerial surveillance started as parts of the constituencies, spread in Paschim Medinipur and Bankura have been categorised as 'very-sensitive' from the security angle.
Online monitoring through mobile van mounted live feeding cameras and CCTVs will be done by the Election Commission. Several model polling stations and all women poling centres have been arranged for convenience of the voters.