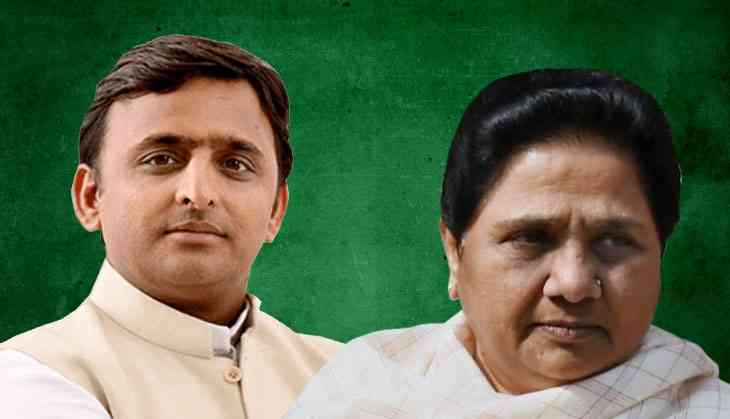 Akhilesh Yadav and Mayawati
Following the path of BSP's Mayawati, Samajwadi Party supremo Akhilesh Yadav on Saturday distanced itself from the Congress party for the upcoming state assembly polls in Madhya Pradesh and Chhattisgarh, announcing that he will no longer wait for the grand old party to take a call on the alliance.
On Wednesday, BSP chief Mayawati had announced that her party will contest the assembly polls alone and ruled out any alliance with the Congress party. She also questioned the intentions and actions of the Congress party to defeat the BJP.
For a prospective alliance in Uttar Pradesh for the 2019 Lok Sabha election, both SP and BSP are in talks.
Interacting with the media at the party headquarters, Akhilesh Yadav said "Congress has wasted a lot of time, how long are we supposed to wait, now the election dates are about to be announced, so now we will not wait any more"
Earlier, Akhilesh Yadav had urged the Congress party to portray maturity and finalize the deal on alliance as quickly as possible.
Akhilesh has now said that he will hold talks with the BSP and look for an alliance with Mayawati in the states of Madhya Pradesh and Chhattisgarh. In the by-polls of UP last year, both the parties have shown the strength to fracture the Modi juggernaut by winning Gorakhpur, Phulpur.
Although both the parties SP and BSP play a minor role in the election of Madhya Pradesh and Chhattisgarh, but a considerable chunk of voters are always inclined towards these parties and that might not suggest a game changer equation but certainly it can be a bad news for the BJP and Congress's vote share.
Also read: Assembly polls 2018: Mayawati slams Congress; BSP to go solo in Rajasthan and Madhya Pradesh polls