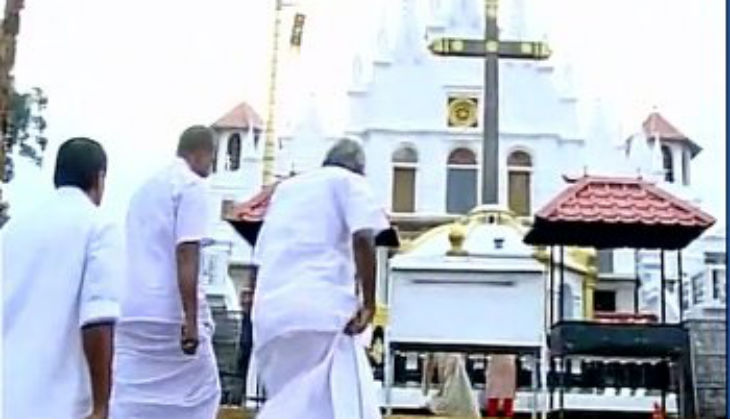 Just a few hours before the final results, the candidates who are in the political battleground were seen resorting to different means to calm their nerves on 19 May.
Bharatiya Janata Party (BJP)'s chief ministerial candidate in Assam Sarbananda Sonowal offered prayers at the Uttar Kamalabari Satra Temple in Majuli, while Kerala Chief Minister Oommen Chandy was seen at the St. John's Church in Thiruvananthapuram.
Meanwhile, BJP's Trivandrum candidate Sreesanth was confident that his party will bag 30-35 seats in Kerala.
"We should be able to get 30 to 35 seats hopefully and mark our entry in Kerala," the former cricketer said.
Assam's regional party AIUDF's chief Badruddin Ajmal chose to disagree with the exit poll results and expressed confidence that his party will win as many as 30-40 seats.
"Exit polls were wrong, we will get 30 to 40 seats. I am confident... Like Bihar, BJP will only celebrate for first two hours, after that when the picture gets clear we will celebrate," he said.
The BJP had ruled out joining hands with Badruddin Ajmal's AIUDF to form a government in Assam and claimed it would get absolute majority alone and two-thirds seats with its alliance partners. BJP fought the elections for the 126-member Assam Assembly along with AGP and Bodoland People's Front.
The counting of votes for the Assembly elections in West Bengal, Tamil Nadu, Assam, Kerala, and Puducherry would be held today amid stringent arrangements made by the Election Commission.
Although the final picture would be clear only by noon, early trends are likely to emerge as soon as the counting starts at 8 AM. Election Commission has reportedly said counting of votes will be completed by 3 PM.
Exits polls have predicted an edge for the BJP in Assam and an outright win for incumbent Mamata Banerjee in West Bengal.