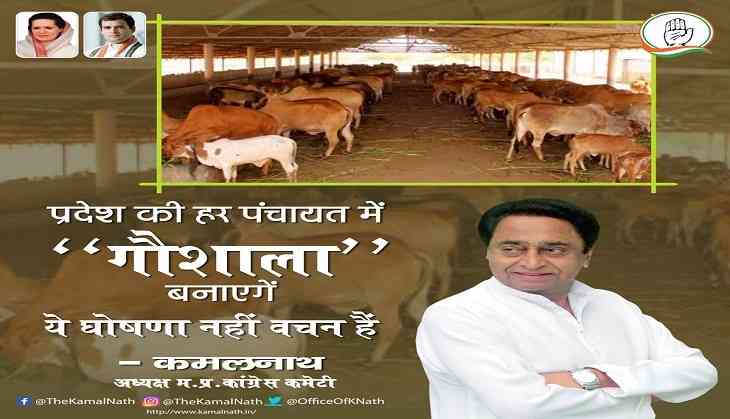 Amid the atmosphere of cow politics, Congress has also started to take bath in the flowing river and promised to build cow shelter in every panchayat if the party comes to power in the 2018 assembly Elections.
Madhya Pradesh Congress chief Kamal Nath recently tweeted 'We will build gaushalas in every panchayat. This is not rhetoric but a promise".
प्रदेश की हर पंचायत में "गौशाला" बनाएंगे ..।
ये घोषणा नहीं वचन हैं। pic.twitter.com/ZGeA590n6Z

— Office Of Kamal Nath (@OfficeOfKNath) September 3, 2018
It's not the first time when he made such promises related to cow but on Sunday at a rally in Ganj Basoda town of Vidisha, he said 'BJP is indulging in politics over 'gau mata', but doing nothing substantial to save hundreds of cows dying on a regular basis. If Congress comes to power, a gaushala will be set up in panchayats across the state".
However, Cow protector criticized the Congress for not doing much for cow protection and lauded the BJP for increasing the fund for cow protection. Akhileshwaranand Giri, Chairman of MP cow protection board, said 'During the Congress regime in MP, a meager Rs 2 crore was allotted for the gau raksha (cow protection. It was Congress that had opposed the cow protection movement in the country. Nath must clarify how many Congress leaders are running cow shelters in MP. This is a tactic to garner political mileage".
At the Ganj Basoda rally, Nath also targeted the BJP for unemployment. He was quoted by the Times of India as saying "I know how it feels to be unemployed. Providing jobs to youths will be the primary focus of the Congress government if voted to power. BJP has cheated the youths by promising them jobs but not doing anything to increase job opportunities".
Also read: Happy Teachers Day 2018: Meet this Mewat headmaster, who received commendation tweet from PM Modi, for this outstanding work in teaching