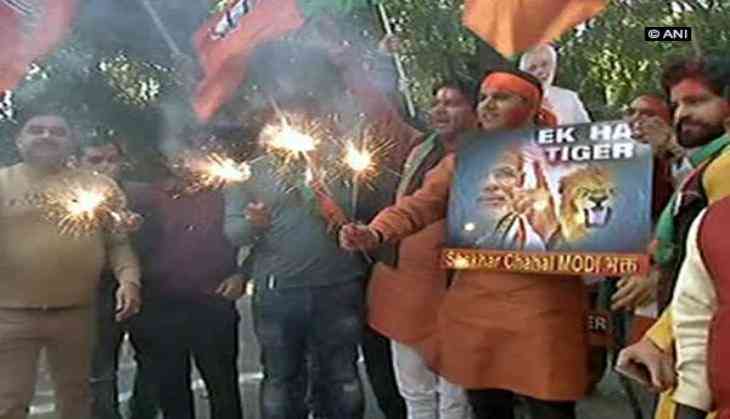 With the early trends suggesting Bharatiya Janata Party (BJP)'s win in Gujarat and Himachal Pradesh Assembly elections, the party cadre are going gaga over the victory.
Some of the BJP workers were seen celebrating outside party headquarters in Delhi carrying a banner with a picture of Prime Minister Narendra Modi referred to as 'Ek Hai Tiger'.
The party workers also unfurled BJP's flag outside its headquarters.
Meanwhile, the Congress party, looking to have faced a debacle in both the states, is protesting against alleged tampering in EVMs at the party office.
While in Gujarat, the BJP is set to retain the power, in Himachal Pradesh, the party is heading towards an emphatic win to snatch the state from the Congress.
The counting of votes for 68 Assembly seats in Himachal Pradesh and 182 constituencies in Gujarat began on Monday morning.
Also read: Gujarat battleground: Congress heavyweight Arjun Modhwadiya loses
The hill state went to polls on 9 November while elections were held in two phases in Gujarat on 9 and 14 November respectively.
-ANI