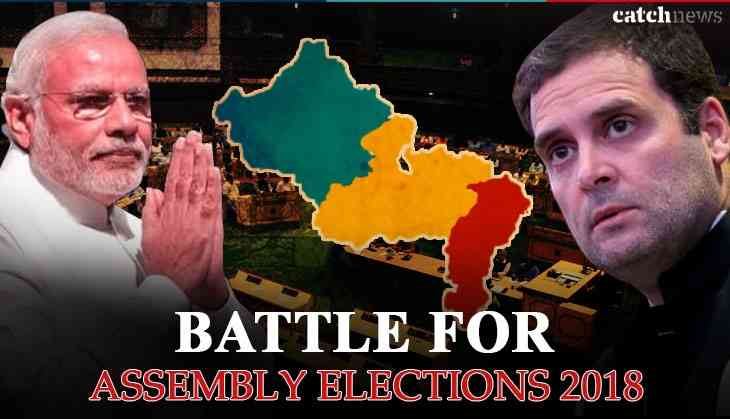 Exit Polls for Assembly Election
The Assembly election of 5 states are now over and the exit polls of all the agencies are out in which Congress is inching ahead with Rajasthan and Madhya Pradesh.
Bhartiya Janta Party, which has claimed to be in a pro-incumbency state might get a jolt on the December 11 as the exit polls suggests that they are getting only Chhattisgarh and that too in a close fight.
In Rajasthan, the India Today-Axis My India has predicted 119-141 seats for the Congress and 5-72 seats for the BJP and 1-3 for BSP, where the majority number is 101. Times Now-CNX is predicting 105 for the Congress and 85 for the BJP, with 2 to BSP and Republc-C Voter has given 137 to the Congress with a mere 60 seats to the BJP.
Madhya Pradesh has given a mixed signal although most of the exit polls are favoring the Congress but the majority are showing a close fight between the two national parties, some even displaying a hung assembly.
The India Today-Axis My India has given 104-122 seats to the Congress, whereas 102-120 to the BJP and 1-3 to BSP in Madhya Pradesh where the majority mark is 116.
India TV has predicted a win for the BJP in MP with 122-130 seats and Congress getting 86-92, with BSP bagging 4-8 seats. As per News24- Pace Media survey, Congress would get 110-120 and BJP only 98-108 in MP.
Now, in Chhattisgarh, India Today-Axis My India has given it to the Congress with 55-65 seats and BJP bagging 21-31 and the BSP+ has 4-8, where the magic no. is 46.
Times Now-CNX has given 46 to the BJP and 35 to the Congress and the BSP+ has 7; whereas the Republic-C Voters has given 35-43 seats to the BJP and 40-50 to the Congress, and the BSP alliance might get 3-7 seats.
In Telangana, the situation is quite clear and almost all the polls are predicting a win for the caretaker CM K Chandrashekhar Rao's TRS.
The India Today- Axis My India has given 79-91 seats to the TRS with only 21-33 seats to the Congress+ and 1-3 for the BJP, wherein the majority mark is 60. The News X-NETA has given 57 to the TRS and 46 to the Congress+ and a 6 seats to the BJP.
Times Now- CNX has given 66 to the TRS and 37 to the Congress+ with 7 to the BJP; and TV9 Telgu- AARA has predicted 75-85 for the TRS and 25-35 for the Congress led alliance with 2-3 to the BJP.
After analysing all the states exit polls by various channels and agencies, NDTV has done a poll of Exit Polls which has predicted seats for the 3 Hindi heartland states.
In this polls of Exit Poll:
In Madhya Pradesh- BJP= 110, Congress= 108, BSP= 2, Others= 10 (Total Seats: 230 & Majority: 116)
In Rajasthan- BJP= 78, Congress= 112, BSP=0, Others= 9 (Total Seats: 199 & Majority: 100)
In Chhattisgarh- BJP= 40, Congress= 43, BSP= 5, Others= 2 (Total Seats: 90 & Majority: 46)
Also read: Telangana Assembly Election 2018: Amid boycott, clashes and star-culture, a look in the triangular