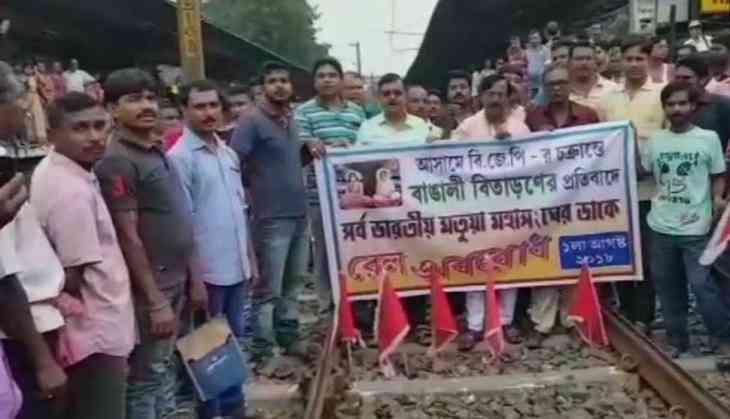 Amid the outrages over Assam's NRC draft, religious group, Matua Mahasangha followers on Wednesday staged 'rail roko andolan' in West Bengal's North 24 Parganas district to protest against the final draft list. Originated in Bangladesh, All India Matua Mahasangha, an organisation of backward classes is a religious reformation movement.
Protesting over the exclusion of 40 lakh people, terming them as 'illegal immigrants' from the complete draft list of National Register of Citizens (NRC) in Assam, the All India Matua Mahasangha blocked train movement at different stations during peak office hours in West Bengal.
Matua Mahasangha followers stage 'rail roko andolan' against #NRCAssam draft, in North 24 Parganas district. #WestBengal pic.twitter.com/ctFgle04vv

— ANI (@ANI) August 1, 2018
An Eastern Railway spokesperson said train movement in the Sealdah north section has been blocked by the agitators at different stations since 8.30 am, hampering services in Sealdah-Hasnabad, Sealdah-Naihati lines.
"Train movement has been affected by blockades owing to non-railway issue. We are requesting and trying to convince the agitators to lift the blockades," ER spokesperson R N Mahapatra said. Blockades were also reported at Thakurnagar, Sandalia, Palta and some other stations. The complete draft of the NRC in Assam was published on July 30.
Political sparring has peaked ahead of a string of state elections and the General Elections in 2019. The draft National Register of Citizens is the result of a years-long agitation by residents of Assam demanding the expulsion of immigrants from Bangladesh just over the border. West Bengal Chief Minister Mamata Banerjee yesterday warned against "civil war and bloodbath" after which police case has been filed against her.
Also read: After West Bengal CM Mamta Banerjee's 'bloodbath' and 'civil war' remark over Assam NRC, police case registered against her