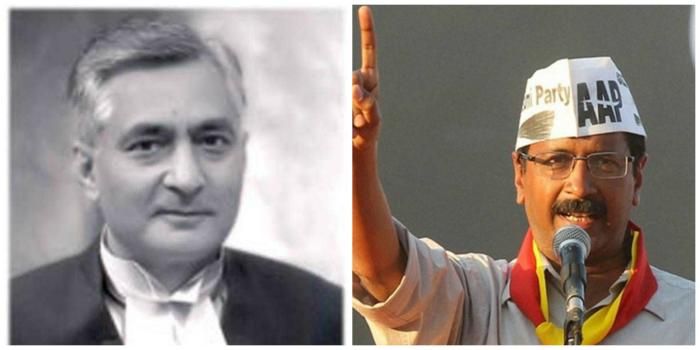 Arvind Kejriwal\'s latest measure for the citizens of Delhi is drawing flak much before it can even be implemented.
However, the CM has found a supporter in CJI TS Thakur, who is happy to endorse the move.Here\'s the latest on the odd-even number formula that Delhiites will have to abide by from January 1, 2016.
What any government dreads is that measures taken by it for the common man's benefit are shot down by a majority of the population, even before they can be implemented. Much like Delhi Chief Minister Arvind Kejriwal's odd-even number plate formula to combat the rising level of pollution in the city. Not only is his idea facing political opposition, but the wrath of the common man as well.
Guys be calm we will protest #DelhiOddEvenLogic with putting black sticker #bootaap at our car n bike ! if anyone want contact me :)

- Rajeev Sharma (@rksadhi) December 7, 2015
Dear @ArvindKejriwal Kindly return Half 1/2 of our Road Tax as we would be driving 1/2 days every week/month/year. #DelhiOddEvenLogic

- Peeyush Rohilla (@PeeyushTechie) December 7, 2015
Also read: #DelhiOddEvenLogic: Congress calls Kejriwal Muhammad bin Tughluq
However, there are some who see sense in the Kejriwal government's solution. Lending credibility to this crucial but unpopular diktat is none other than the Chief Justice of the country, TS Thakur.
This is what the CJI had to say about Kejriwal's odd-even formula for cars plying on Delhi streets.
"We would love to do so (drive cars only on alternate days based on the car number or take buses) if it helps reduce pollution. There is no difficulty in this. I think this is the bare minimum which we can do. People call it sacrifice. This is not a sacrifice, this is symbolic to show that judges are doing it."
Kejriwal couldn't thank the top judge enough for the timely support.
CJI's support 2 odd even formula is welcome n huge encouragement. SC judges pooling cars wud inspire millions 2 follow. Thank u My Lords.

- Arvind Kejriwal (@ArvindKejriwal) December 6, 2015
What is the odd-even formula and how will the government implement it?
The odd-even number plate formula is the Delhi government's ambitious plan to curb pollution.
The Delhi government on Sunday said odd-numbered vehicles will be allowed to ply on Monday, Wednesday and Friday while even-numbered vehicles will run on the other days - Tuesday, Thursday and Saturday.
Delhi home minister Satyendra Jain said the government will only exempt emergency vehicles like PCR vans, fire tenders and ambulances from this rule.
It will be implemented from January 1, 2016.
Ministers need to comply with the rule as well
Satyendra Jain said the odd-even formula will also be applicable to ministers and officers. "I will also use my car on alternate days and will use carpooling service on other days," he said.
It's just an initiative on an experimental basis. So chill.
Ever since the Delhi government has announced the measure, not only has it faced political opposition but it has also garnered negative reaction from the common man. People have been questioning the logic behind the move on several counts. Most think such a move could negatively impact women's safety and is a major concern for women who work late or stay a long distance away from their workplace.
Many have also pointed out that the policy is bound to fail as Delhi's public transport is already overburdened and it won't be able to take the additional load that the policy is sure to add.
Also Read: 15 questions for the AAP govt on Delhi's new odd/even formula for vehicles
However, Kejriwal has made it very clear that the move is only an experiment to see if it has any impact on the air quality of Delhi. On Saturday, speaking to NDTV, he said that the government would discontinue the move after 10 to 15 days if people faced problems. He further promised to improve Delhi's public transport.