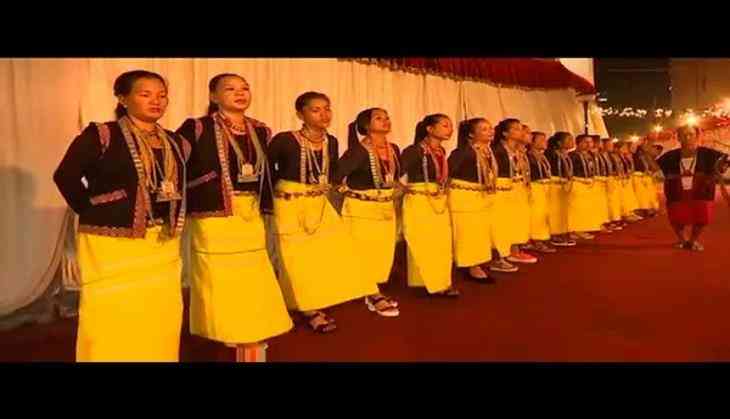 Keeping the culture and roots alive and bringing the folks under single platform, the Adi community of Arunachal Pradesh who are residing in the capital came together and celebrated one of its biggest festivals 'Solung festival.'
India's northeast region is known for its vivid and exotic fairs and festivals which are celebrated throughout the year. Festival has been an essentials part of the region since time immemorial and its diverse and unique culture and traditions are reflected through fairs and festivals.
Solung, primarily an agro-based festival is the most popular festival of the Adis of Arunachal Pradesh, which also reflects the socio-religious features of the people, is celebrated on September 1 every year. Though, in the capital, it was celebrated on last Sunday itself.
' Solung festival' is celebrated to invoke and appeasement of God's blessing for their providence and praying for bumper harvest.
There are three main parts in the celebration of this festival. They are:
I. Sopi---Yekpi (also called Limir-Libom), the first part and the sacrificial day;
II. Binnyat, the second part, the ritual offering to goddess of crops, Kine Nane, and
III. Ekop (also called Taktor), the ritual made for protection against harms by evil spirits by appeasing to Gumin-Soyin, the household guardian, and Doying Bote, god of wisdom and human welfare.
This agro based festival also symbolizes the socio-religious aspects of the Adi community and celebrates to promote a sense of unity and strengthen the feelings of friendship and brotherhood along with merry-making and feasting.
The event was organized by the Adi's student council who are studying in Delhi.
Union Ministers Kiren Rijiju and Colonel Rajyavardhan Singh Rathore attended the event along with other Members of Parliament.
Speaking at the event, Rijju said, "I am very happy to see that a team from Arunachal Pradesh have come here and performed the wonderful dance. I think as usual it has been done in a very attractive manner, Solung 2017 and without taking much time, I am happy to share that I am fortunate to participate in any kind of festival and Solung is one of the most important festivals of Arunachal Pradesh."
The event highlighted the various indigenous forms of dances and art form that evolve during the festival and other agriculture based festivals in the landlocked Arunachal Pradesh.
Reliving their rich and unique culture as well as showcasing the varied collections of Adi community's traditional attires, students also sashayed down the ramp by enthralling the audience.
Apart from promoting their culture, celebrating such festivals enable to enrich the community's bonding and builds a sense of oneness amongst the society.
-ANI