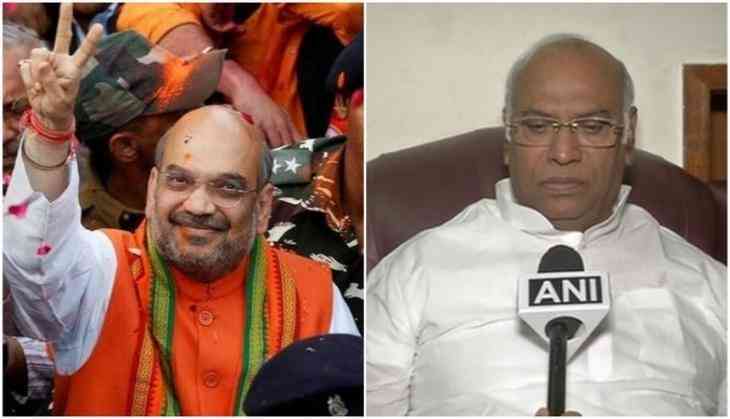 As Bharatiya Janata Party (BJP) president Amit Shah landed in Kerala for a three-day tour to prepare for upcoming 2019 polls, the Congress party asserted that Shah's intentions are only to disturb the existing government and to polarize the votes.
"Amit Shah is making politics out of everything including beef, national integration, violations and whatever is going in Jammu and Kashmir. For everything he wants to exploit the situation and polarize the votes. When the situation is good in Kerala, he is going to disturb the existing government and polarize the votes," Congress leader Mallikarjun Kharge told ANI.
The saffron party has not been able to make a strong electoral footprint in Kerala yet.
In the last year's assembly elections, the BJP doubled its votes by 16% and achieved one seat for the first time ever.
Reportedly, Shah's visit to the state is the part of his 110-day tour across Indian states to prepare the ground for 2019 polls.
Shah's visit comes at a time when the Centre is facing crisis over its new cattle trade norm.
Banning of beef in the state has sparked outrage against the Centre's order.
Earlier, Kerala Chief Minister Pinarayi Vijayan said that he will call for a meeting of all the Chief Ministers, asserting that the Union Government does not have the right to issue such an order.
Vijayan further said that the Centre's new rule is an impermissible encroachment into the domain of the State Legislatures which is a clear 'violation of the spirit of federalism.'
Drawing a huge backlash from various fractions, Minister for Environment, Forest and Climate Change Harsh Vardhan ordered that the ministry has notified the Prevention of Cruelty to Animals (Regulation of Livestock Markets) Rules, 2017 to ensure that the sale of cattle is not meant for slaughter purposes.
He said the seller and buyer both have to ensure that the cattle is not being bought or sold across the country's livestock markets market for slaughter purposes.
The rules also state that the purchaser shall not sacrifice the animal for any religious purpose or sell it to a person outside the state without permission and must keep in with the state's cattle protection laws.
-ANI