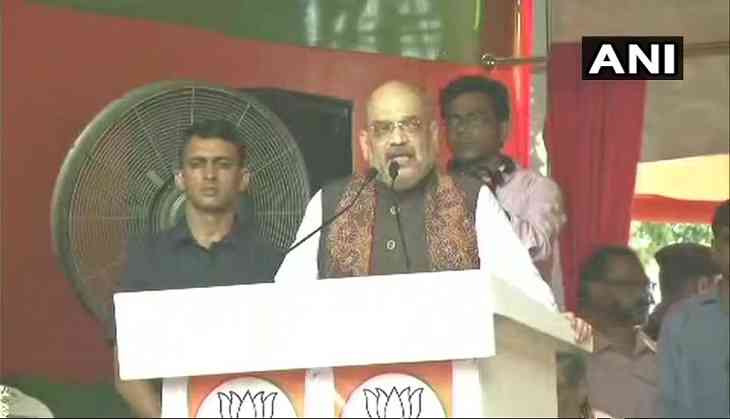 Bharatiya Janta Party president Amit Shah on Saturday launched a powerful attack on TMC and its chief Mamata Banerjee in a public rally in West Bengal capital. Amid political war in West Bengal between Mamata Banerjee's Trinamool Congress and Amit Shah's BJP, he visited West Bengal first time after the Assam NRC draft list released.
Addressing the rally in West Bengal's Kolkata, BJP chief launched a scathing attack on Mamata Banerjee and said will uproot the Mamata Banerjee's Trinamool Congress from West Bengal. While taking on Mamata Banerjee over making remarks on NRC Assam draft list, Amit Shah said why she is supporting illegal immigrants? He said "All Mamata ji has done is to object against NRC. But NRC is the process to throw illegal immigrants out. Shouldn't Bangladeshi immigrants be thrown out?"
Amit Shah also said BJP is concerned about the welfare of Hindu and Muslim brothers of West Bengal. He also said that now we get to hear bomb explosion in the state rather than 'Rabindra Sangeet. "Earlier we used to hear the sound of 'Rabindra Sangeet' every day in Bengal but now you hear only the sound of bomb explosions here, he said.
Shah also attacked Rahul Gandhi along with Mamata Banerjee over protecting Bangladeshi infiltrators. "We want to ask Mamata Banerjee why she is protecting Bangladeshi infiltrators. Rahul Gandhi is also not clarifying his stand on the issue. This is because of Congress's vote-bank politics."
"Look what Mamata Banerjee has done with a great place like Bengal... businesses and industries are suffering, but the corrupt and syndicates are flourishing... rule of law is non-existent, Gunda-raj is at an all-time high... you all saw what happened during the panchayat polls some time ago... Bengal was the land of literature and music... now all you read and hear is about bomb-making units and explosions... this is Mamata Banerjee's Bengal," Amit Shah said.
Also read:Distressed over fight with wives, Delhi man plotted murder; tried to sell wife at brothel in Rs 1.20 lakh; arrested