Namit Hans
| Updated on: 13 February 2017, 5:16 IST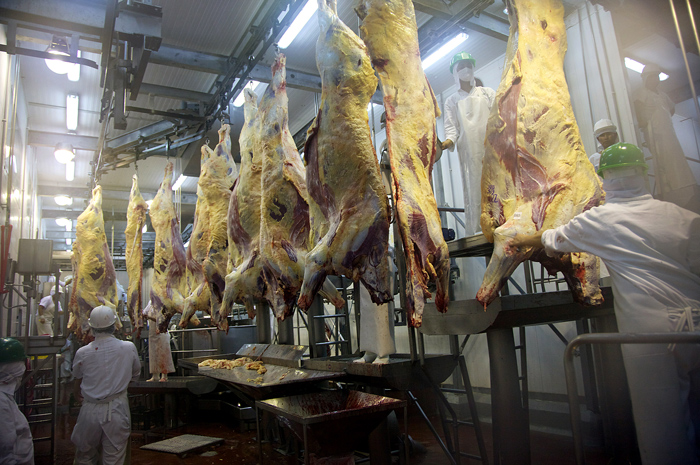 In the times of #BeefBan, comes a shocking revelation - India has not only retained its top position followed by Brazil and Australia as the biggest exporter of the meat, according to the US Department of Agriculture, India has exported 2.4 million tonnes of beef in the financial year 2014-15 which accounts for a whopping 23.3 percent of world's beef production!
In 2014, India made profits of around $4.8 billion from the beef industry and the total profits surpassed that from exports of Basmati rice for the first time. Interestingly, domestic consumption of beef has gone down by 44 per cent since 2000. But wait, we are not just talking about cows but other bovine animals like buffaloes and bullocks as well. Officially all bovine animal meat is considered beef.
But irrespective of this revelation, politics around beef continues. Days after the Dadri lynching case involving a murder over beef occurred, Uttar Pradesh Chief Minister Akhilesh Yadav dared the central government led by Narendra Modi to ban export of beef. Union commerce minister Nirmala Sitharaman was quick to rebut, claiming that the union government doesn't have any jurisdiction over this matter.
Read More: As the beef debate rages on, here are laws on cow slaughter in different states
The Modi connection
While campaigning for the 2014 general elections, BJP picked up increasing meat exports as an agenda against the ruling party and slammed them for providing subsidy and tax breaks to the slaughter houses.
"This country wants a Green Revolution," Mr Modi said at a rally in Bihar today. "But now those at the Centre want a 'Pink Revolution'. Do you know what it means? When animals are slaughtered, the colour of their flesh is pink. Animals are being slaughtered and being taken to Bangladesh. The government in Delhi is giving subsidies to those who are carrying out this slaughter," said Narendra Modi at a rally in Nawada, Bihar.
However, data by Federation of Indian Chambers of Commerce and Industry showed that meat production in Gujarat, while under Modi's leadership, almost doubled. It says that the state produced 22,000 tonnes of meat in 2010-11 in comparison to 10,600 in 2001-02.
The Hindu newspaper report claims that Gujarat is one of the the 10 states in India to have the largest number of slaughterhouses. It mentions that over 1,000 animals are slaughtered on an average in a day.
Another report by Business Today in April, 2015 stated that the BJP government continued giving a grant of Rs 15 crore for the construction of new slaughter houses and renovation or mordernisation of the existing ones.
Meat consumption trends in India
A report in The Hindu newspaper claims that buffalo meat exports from India have been growing continuously at an average of 14 per cent since the year 2011.
Also, according to the United Nations Food and Agricultural Outlook database, even though the consumption of meat in India has gone up since 2000, the consumption of beef has reduced by more than 44 per cent.

On the other hand, the consumption of chicken has gone up by 31 per cent.