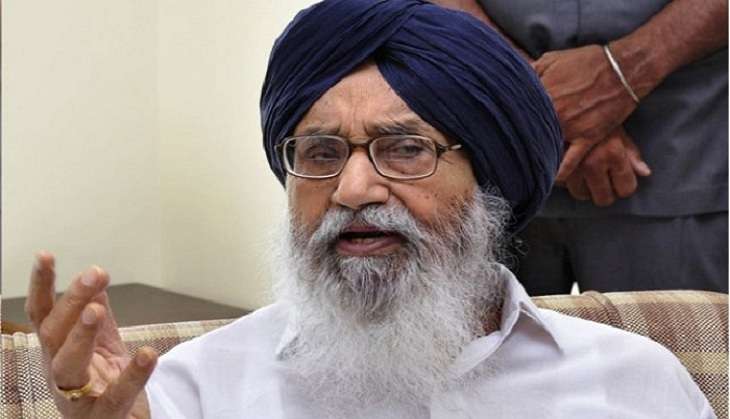 Punjab Chief Minister Parkash Singh Badal, on 10 November, snubbed Captain Amarinder Singh over his decision to resign as Member of Parliament following the Supreme Court verdict in the Sutlej Yamuna Link (SYL) canal row. Badal said that his move is nothing "but a drama".
Following the Supreme Court verdict in the SYL canal row wherein it declared the legislation passed by the Punjab Government as 'null and void', Amarinder Singh tendered his resignation to Lok Sabha Speaker Sumitra Mahajan.
"I am writing to inform you that I hereby tender my resignation as Member of the 16th Lok Sabha from Amritsar constituency in Punjab with immediate effect, as a mark of protest against the deprivation of the people of my state of the much-needed Sutlej river water. The Supreme Court ruling against Punjab on the SYL issue has come as a major blow to the people of Punjab, who need me in this hour of despair and with whom I stand in support at this critical juncture in the state's journey," Singh said.
"The central government, as well as the state government, failed to come to the rescue of the people of Punjab in time to save them from the sorry plight into which they have been plunged by the apex court judgment. It is my moral duty, in the circumstances, to extend my solidarity to the people of Punjab and join them in their fight for justice.
"I have decided, therefore, to quit the Lok Sabha, of which I have been a member since May 2014, in the interest of the people of Punjab, for whose rights I shall now fight outside the four walls of this august House. You are requested, therefore, to accept this as my formal resignation as Member of Parliament," he added
The apex court earlier in the day held as unconstitutional the 2004 law passed by Punjab to terminate the SYL canal water sharing agreement with Haryana, Himachal Pradesh, Rajasthan, Jammu and Kashmir, Delhi and Chandigarh.
Also read:Amarinder Singh, Punjab Congress MLAs resign over Sutlej Yamuna canal SC verdict
The judgement made it clear that the Punjab Termination of Agreements Act, 2004 is "unconstitutional" and Punjab could not have taken a "unilateral" decision to terminate the water sharing agreement with neighbouring states.
The five-judge constitution bench of the Supreme Court answered in negative on all the questions of president reference if Punjab can enact the law over Sutlej Yamuna link canal.
The Centre will now take over the canal and continue building it.
Today's judgement implies that the 2004 Act was not in consonance with the apex court judgement of 2003 which had mandated the construction of the SYL canal that has been stalled.
Meanwhile, all Punjab Congress MLAs have also sent their resignations to Captain Amarinder Singh in protest of the apex court verdict.
--ANI