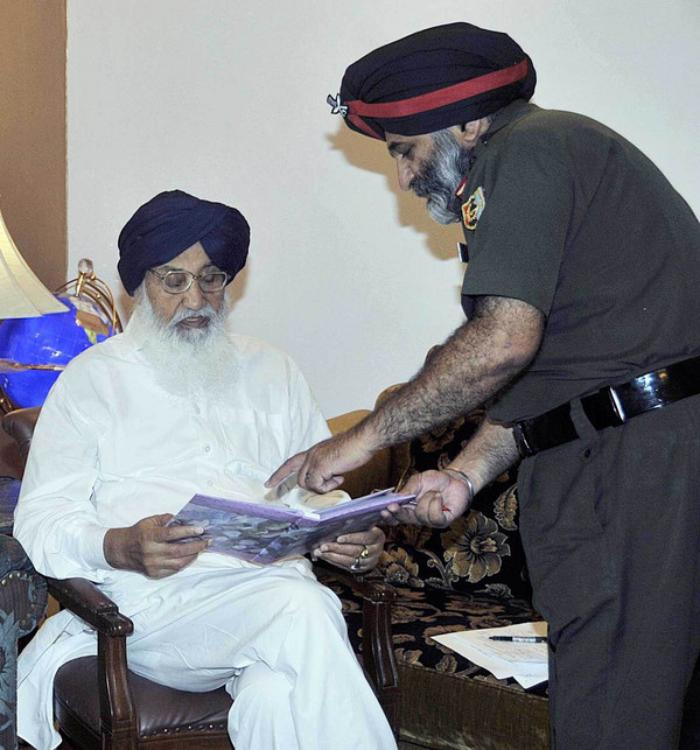 In a terse reply to senior Congress leader Amarinder Singh, Chief Minister Parkash Singh Badal said "Singh himself was "frustrated" with his own party leadership" on 6 August. The former chief minister Singh had alleged on 5 August that Akali ministers were feeling "suffocated" in the current government.
Badal asked Amarinder to stop worrying about cadres of SAD as they were strongly united for strengthening the party.The statement regarding resentment among Akali cadres was merely a figment of imagination of the former Chief Minister who was violating the policy and programme of his own party just for his personal interest, the CM said on the sidelines of Sangat Darshan programme in Baba Bakala assembly segment here."We are fully united to serve the people of the state unlike Congress where every group is having its own leader," added Badal.
Amarinder had yesterday claimed that there was a lot of "resentment" among the BJP ministers, and those in Akali Dal as "total power has been concentrated within the Badal family."Badal said the SAD-BJP alliance was firm and the rumours regarding ripples in it were just a creation of media.The alliance has proved very fruitful for ensuring progress in the state and prosperity of its people, he added.
Describing Chief Parliamentary Secretary Navjot Kaur Sidhu as her daughter, Badal said that all her grievances would be redressed.Welcoming the academic session in Indian Institute of Management (IIM) which began from today, the Chief Minister said that it would give a major boost to education in the state.
He said the allegations regarding attempts to shift this project to some other district were completely baseless as Union Finance Minister Arun Jaitley had sanctioned this along with Post Graduate institute of Horticulture Research for Amritsar in his budgetary speech."I express my gratitude for every worker and leader of SAD-BJP alliance who have ensured that this project starts in Amritsar," Badal added.
The chief minister, while reiterating the firm commitment of state government to stamp out the drug menace from the state, said the state government has declared a war against drugs by cutting its supply line.He said that a network of drug de-addiction and rehabilitation centers have been set up across the state to detoxify the drug addicts and enable them to live their life with dignity and pride."We are committed to eliminate this curse from the state and no stone is being left unturned to accomplish our mission," he said.
-PTI