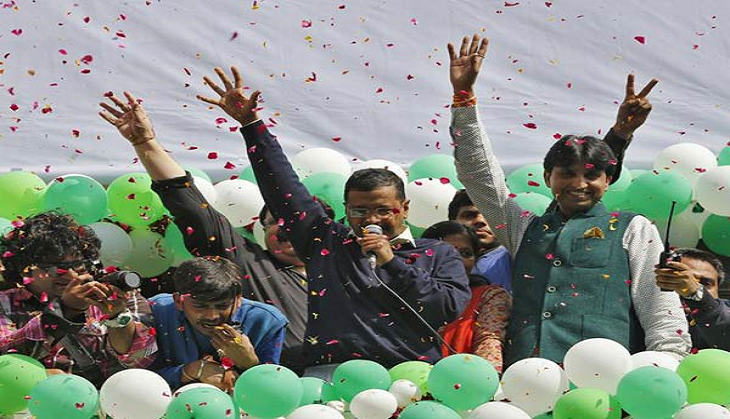 The rift in the Aam Aadmi Party (AAP) seems to be nearing its conclusive end. In what can be termed as a major step towards the reconciliation, party supremo Arvind Kejriwal on Wednesday fulfilled the key demand of Kumar Vishwas of taking a strict action against Delhi legislator Amanatullah Khan, who had accused him of having been planted by the Bharatiya Janata Party ( BJP) and the Rashtriya Swayamsevak Sangh (RSS).
Amanatullah,who had resigned from the party's Political Affairs Committee (PAC) following a high-end meeting of the party members, now stands suspended from the party.
The announcement of suspension was made by Deputy Chief Minister Manish Sisodia.
Vishwas now has been named as the in-charge of Rajasthan affairs.
Vishwas, on his part, thanked the party workers, who stood by his side during the crisis, adding that the leadership made it clear that mud-slinging on the top leadership would not be tolerated.
"The morale of the party workers saw a boost. Their belief has increased that leadership does not tolerate any sort of indiscipline. The party has given a clear message that it would not compromise on corruption, nationalism and its workers," Vishwas told ANI.
Vishwas asserted that the party would now move forward in a cooperative way.
"The party will move ahead in a united way. Thanks to the thousands of our workers who stood by the party in its difficult time," he said.
An emotional Vishwas had yesterday indicated towards quitting the party, when he accused the AAP leaders of conspiring against him.
"The things Amanatullah has said about me, if he had said the same for Arvind Kejriwal or Manish Sisodia, he would have been thrown out of the party in 10 minutes. But he had said such thing so many times, yet he wasn't ousted," Vishwas told the media here.
"Amanatullah is just a mask; someone else is speaking behind his mask. I would appeal to them to not go against me as I had once put up posters for AAP and defended them," he added. He said that he would not compromise with his principles and soon take a call on his future action.
"Will not keep silent on the mistakes of the AAP party," said Vishwas, adding, "I'm not interested in becoming the Chief Minister ever". However, following the hint, Kejriwal and Sisodia made efforts to convince Vishwas.
The Delhi Chief Minister and Deputy Chief Minister went to Vishwas' residence in Ghaziabad and held talks with him.
-ANI