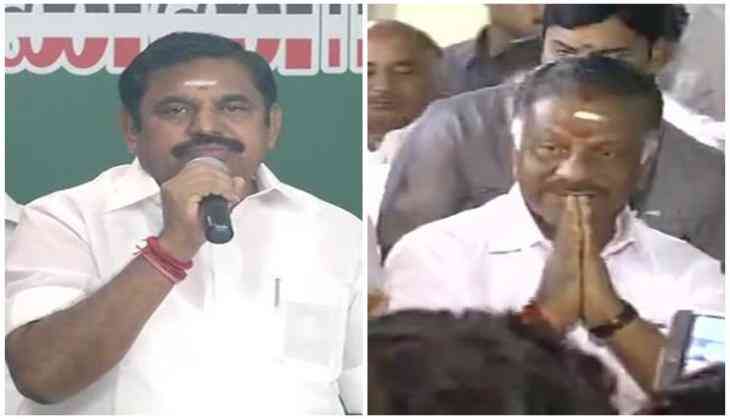 AIADMK of EPS-OPS: A timeline of events from split to merger
Merely six months after the AIADMK split, the two factions came together on Monday and formally announced the merger of Puratchi Thalaivi Amma (PTA), headed by Deputy Chief Minister O. Paneerselvam, and the other, AIADMK (Amma), headed by Chief Minister Edappadi Palaniswami, in the state.
Leaders from both the factions held a meeting on Monday afternoon at the party headquarters in Chennai and announced the decision of merger.
Here is a timeline of events that happened in last few months from split to merger:
December 7, 2016: After Jayalalithaa's death, senior AIADMK leader O. Paneerselvam sworn in as the next chief minister of Tamil Nadu. According to reports, several AIADMK MLAs were called to Apollo Hospital to sign a declaration, making Panneerselvam Jayalalithaa's successor.
December 29, 2016: Sasikala Natarajan, the confidante of late Jayalalithaa appointed as AIADMK's general secretary on December 29 after several party functionaries urged her to lead the party.
February 5, 2017: O. Panneerselvam resigned from the chief minister post and Sasikala was elected head of the AIADMK legislative party and proceeded to stake claim to form the government. State Governor C Vidyasagar Rao accepted Panneerselvam's resignation, but asked him to operate in a caretaker capacity.
February 14, 2017: Sasikala was convicted in the 19-year-old disproportionate assets case and sentenced to serve four years in jail. She also stood disqualified to take over as Tamil Nadu chief minister.
February 15, 2017: In yet another major development in Tamil Nadu politics, TTV Dhinakaran on February 15 was appointed as the Deputy General Secretary of the AIADMK.
February 18, 2017: Edappadi K. Palanisamy took oath as Tamil Nadu Chief Minister along with 31 other AIADMK MLAs.
February 20, 2017: Amid an uproar in the Tamil Nadu Assembly, Edappadi K. Palanisamy won the vote of confidence with 122 MLAs supporting him.
March 22 2017: With the bypoll elections for vacant R K Nagar constituency approaching, both the factions staked claim over the party's "two leaves" symbol. On March 22, Election Commission froze the party symbol recognising the split in the party. In a statement, EC officials said that neither of the two factions will be able to use the "two leaves" symbol. Amid allegations of both camps bribing the voters, the election body "cancelled" R K Nagar bypoll election slated for April 10.
April 17, 2017: In what can be called as a major hint towards sewing up an unprecedented merger between two warring factions in the Tamil Nadu Government, the Sasikala and the O. Panneerselvam groups of the AIADMK met to discuss and deliberate over possibilities of their unification.
April 18, 2017: With TTV Dinakaran facing bribery allegations, the two factions initiated merger talks. At least 25 ministers held an emergency meeting to discuss the possible merger. D Jayakumar, who belongs from OPS faction, in a statement to media, said that their side is open for talks on merger. One of the major conditions for OPS faction for a merger was the expulsion of Sasikala and Dinakaran from the party, an issue which derailed the talks.
June 5, 2017: Soon after being granted bail in the case of alleged bribery for party symbol, AIADMK deputy general secretary TTV Dinakaran reached Bengaluru and met aunt Sasikala.
June 6, 2017: 21 AIADMK MLAs met Dinakaran at his residence, giving rise to speculations that many of them, who were part of the Palaniswami camp, may openly declare support to Dinakaran. Losing as many MLAs to Dinakaran could topple the government.
August 2017: CM Edappadi Palaniswami on August 11 said the appointment of TTV Dinakaran as party's deputy general secretary was "not acceptable", thus paving the way for a possible merger between the two factions.
Last week, at a party meeting chaired by Palaniswami, a resolution was adopted, shunning party deputy general secretary T.T.V. Dhinakaran.
Party leaders from both the factions held multiple meetings on August 18, after which the OPS faction said an announcement on the merger will be made on August 21, 2017.
As per decision taken jointly by the both factions, former Tamil Nadu chief minister O. Panneerselvam (OPS) has been made new Deputy Chief Minister under the merged All India Anna Dravida Munnetra Kazhagam (AIADMK) government in the state. He will also hold the additional charge of Finance Ministry.
The decision of merger was taken by both factions days after the Tamil Nadu government accepted the AIADMK (PTA)'s two key demands for merger - a probe into former Chief Minister Jayalalithaa's death and conversion of her Poes Garden residence into a memorial.
The third demand was the ouster of AIADMK general secretary Sasikala and her family members from the party.
-ANI