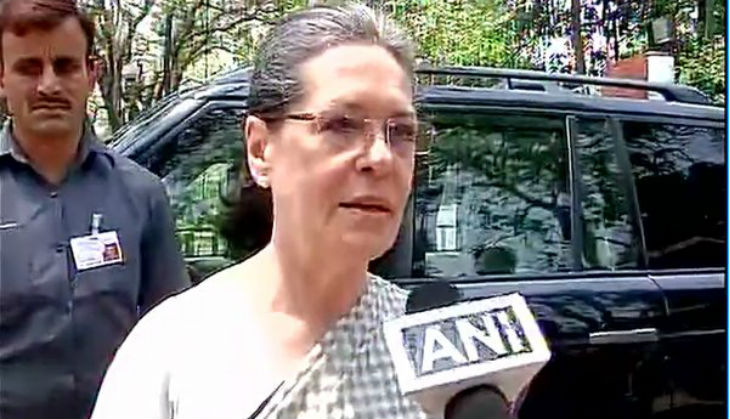 After being cornered by the central government in Parliament over the chopper scam, the Congress party has declared that it is ready to discuss the issue. 
Congress President Sonia Gandhi said she is not afraid of anything as the party has nothing to hide in the case.
"We have nothing to hide. Let them (BJP) take my name, I am not afraid," she said, asking, "Why hasn't the government conducted any inquiry in 2 years?"
The Rajya Sabha has been adjourned till 12 noon following ruckus over the AgustaWestland deal.
The Congress leaders continued their uproar and stormed the well of the House as BJP's Subramanian Swamy raised the issue after the Rajya Sabha took up the matter for the second time today.
Earlier in the morning, Leader of Opposition in the Lok Sabha, Mallikarjun Kharge, after attending a meeting chaired by Congress president Sonia Gandhi at her official 10, Janpath residence, said, "We will move an adjournment notice for discussion. We are ready to discuss the AgustaWestland issue in Parliament."
The meeting, which was attended by several Congress leaders including Anand Sharma, Randeep Surjewala and Jyotiraditya Scindia, comes in the wake of a report published in The Hindu wherein James Christian Michel, the accused middleman in the chopper deal, has offered himself up for questioning by the Enforcement Directorate (ED) and the Central Bureau of Investigation (CBI).
Read More: AgustaWestland chopper scam: Accused middleman Christian Michel offers to cooperate with ED, CBI
BJP leader Subramanian Swamy, who has moved a notice for discussion on the AgustaWestland chopper deal in the Rajya Sabha, today told ANI that the Congress Party must support the probe in this regard.
"I can't corner the Congress Party; they have got nothing to hide. They must support me. I am only saying that expand the investigation of the CBI because you had set up the CBI and you confined it only to the Air Marshal, and now, the Chief of Air Staff says he only signed the documents put before him by the UPA ministers," Swamy said.
"You (Congress) have already a few names from Italy in the document form and more importantly, it is a judgment of a high court level in Italy," he added.
BJP's Meenakshi Lekhi has moved a notice for discussion on the chopper deal in the Lok Sabha.
Agusta Westland's Rs 3,600 crore contract for supplying 12 VVIP choppers to the Indian Air Force was scrapped by the UPA government over charges of kickbacks to Indian agents. In January 2013, India cancelled the deal and the CBI was assigned to investigate the matter.
-With ANI inputs