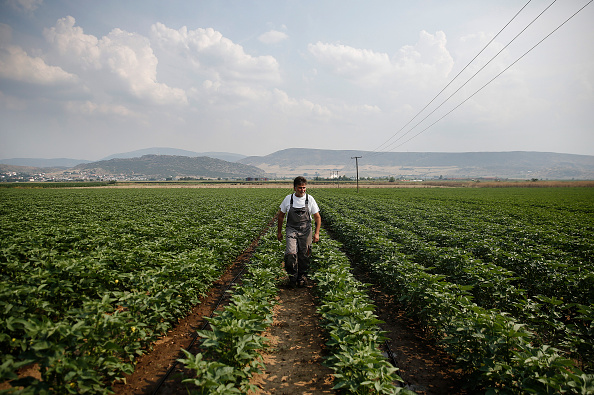 Seven decade-old Agriculture Ministry will be renamed as the Ministry for 'Agriculture and Farmers' Welfare' with a view to take care of farming community needs, Prime Minister Narendra Modi announced today.
Addressing the nation on the 69th Independence Day, Modi stressed on the need to increase agricultural productivity and said the government is making efforts to boost crop yields.
Emphasising on welfare of farmers for the overall growth of the agri-sector, he said the government will rename the present Agriculture Ministry as 'Agriculture and Farmers' Welfare Ministry'.
Pre-independent India had a combined Department of Revenue, Agriculture and Commerce set up in June 1871.
In 1881, the Department of Revenue and Agriculture was reconstituted as separate departments, but in 1923, the departments of Education and Health were combined with it to form the 'Department of Eduction, Health and Lands'.
In 1945, it was trifurcated into three separate departments of Agriculture, Education and Health. The Department of Agriculture was rededicated as Ministry of Agriculture in August 1947.
At present, the Agriculture Ministry under Radha Mohan Singh is mandated to devise schemes to incentivise crop production, including by fixing the minimum support price for more than 20 crops.
A separate ministry of consumer affairs, food and public distribution, headed by Union Minister Ram Vilas Paswan looks after procurement of foodgrains and their supplies through ration shops.
Modi said the government is focusing on raising farm productivity, and providing electricity and irrigation to farmers. He said the Pradhan Mantri Krishi Sinchai Yojana had been launched with an outlay of Rs 50,000 crore.
"We need to increase agricultural productivity and we are working in that direction," he said, adding that focus should be on achieving "per drop, more crop".
The Prime Minister assured farmers that the government would make sufficient availability of fertilisers.
Modi highlighted that the government has allowed 100 per cent production of neem-coated urea to check diversion of this key nutrients to chemical industry and asked farmers to use only neem-coated urea.
He said the introduction of "neem-coated urea" has helped to end diversion of subsidised urea to non-agricultural purposes.
Modi said the government is reviving closed urea plants, including those in eastern parts of India.
To boost the farm sector, the government has already announced plans to spend Rs 50,000 crore over the next five years under the Pradhan Mantri Krishi Sinchai Yojana (PMKSY) to improve farm productivity.
Currently, 142 million hectares are used for cultivation, of which only 45 per cent farm land is under irrigation.
That apart, a Soil Health Card scheme has been launched under which the Centre plans to target over 14 crore farmers in the next three years to check the excess use of fertilisers.
India's foodgrain production is estimated to have declined by 5.25 per cent to 251.12 million tonnes in 2014?15 crop year against record 265.04 million tonnes in the previous year.