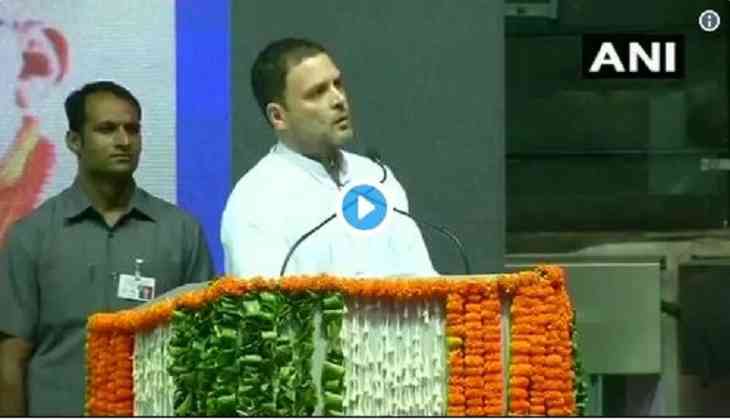 Congress President Rahul Gandhi who has told about the founder of Coca-Cola company on Monday (11th June). According to Rahul Gandhi, the person who founded Coca-Cola was the 'shikanji' seller in America. Not only this, he also told about the man who founded McDonald's used to run a 'dhaba' in the country. He revealed this information at the National OBC convention for the party at Talkatora Stadium in the Capital (Delhi).
However, with this statement, Rahul Gandhi took a jibe at the opposition by saying that he wanted to see those dhaba owners in the country also who become the owner of such big companies like Coca-Cola and McDonald's. Well, once again, because of Congress leader unusual remark hit the headlines from all four directions and made the people laugh at him.
Well, the flavour added more when his small clip of saying the same words has been shared by a new agency ANI on Twitter and grabbed the attention of everyone.
Have a look at the video of Rahul Gandhi:


#WATCH Congress President Rahul Gandhi talks about origins of the Coca-Cola & McDonald's company, says, "Coca-Cola company ko shuru karne wala ek shikanji bechne wala vyakti tha..." #Delhi pic.twitter.com/MATnaR734J

— ANI (@ANI) June 11, 2018
Well, everyone eyes have gazed on the leader that what would he say in his speech and trollers is waiting for some of his dumb remarks. The same has happened this time also, Twitterati took no time to troll him after watching his video and started the campaign named #AccordingToRahulGandhi. With over 10,000 tweets, Tweeple trolled him brutally.
Here's how the memes have been created by the trollers on the micro-blogging site:
ab pta chala kapil sharma ka show kyun band huaa??/ 😀

— Rajeev M Rastogi (@rajeevMrastogi) June 11, 2018
#AccordingToRahulGandhi Current CEO of Facebook. pic.twitter.com/CidacJEjDB

— Uddhham ~Sing~ (@UddhhamSingh) June 11, 2018
Rare childhood Photo of Wright Brothers who use to sell Kites #AccordingToRahulGandhi pic.twitter.com/8bNFsslUml

— Rishi Bagree 🇮🇳 (@rishibagree) June 11, 2018
Starbucks owner #AccordingToRahulGandhi 😂 pic.twitter.com/zs8VnBojXE

— Smoking Path-Breaking Skills (@SmokingSkills_) June 11, 2018
Coca Cola's owner in his earlier days.. selling Shinkanji.. #AccordingToRahulGandhi pic.twitter.com/BMc2UNHByO

— Paresh Rawal fn (@Babu_Bhaiyaa) June 11, 2018
Meet Jack, founder of Twitter #AccordingToRahulGandhi pic.twitter.com/3vc57y1y5K

— Yo Yo Funny Singh (@moronhumor) June 11, 2018
Founder of Harley Davidson #AccordingToRahulGandhi pic.twitter.com/HtzpsQoX0D

— Srikanth (@srikanthbjp_) June 11, 2018
#AccordingToRahulGandhi Steve Jobs in his childhood days was selling Apples. pic.twitter.com/Rg3sjfr5y3

— ಏನ್ ನಿನ್ ಪ್ರಾಬ್ಲಮ್ (@arunbtgbd) June 11, 2018

Let us inform you that the Coca-Cola was founded by John Stith Pemberton. He invented the drink accidentally when he was trying to make an opium-free alternative for pain killers. He was doing the experiment with coca and coca wines, he made his own version of French Wine Coca first but soon had to come up with an alcohol-free version owing to new legislation. Later, he blended the syrup base with carbonated water and also dropped the idea of selling it as a medicine and then, the drink was born.
Also read: Rahul Gandhi pleads 'not guilty' in defamation suit filed by RSS leader in Mumbai's Bhiwandi court