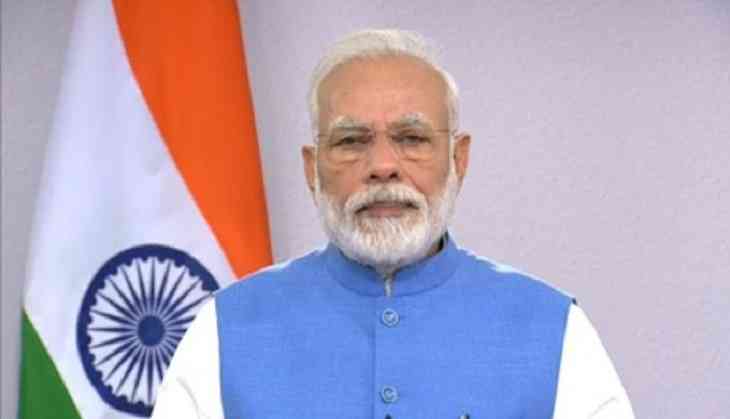 Prime Minister Narendra Modi has addressed the countrymen at 8 pm today due to coronavirus outbreak. PM Modi urged people to maintain 'Janta curfew' on Sunday, i.e. March 22.
PM Modi asked people to avoid social interaction and mass gatherings during public curfew or Janata curfew.
WATCH: PM Narendra Modi addresses the nation on #coronavirus situation. (courtesy: DD) https://t.co/hHHygEdqEE

— ANI (@ANI) March 19, 2020
In an address to the nation, PM Modi said, "I am seeking one more support from every countryman today. This is a public curfew. Janta curfew means for the public, curfew imposed on the public by themselves. I request everyone to follow this from this Sunday, i.e. 22 March, 7 am till night at 9 o'clock."
He also asked people to avoid panic buying amid outbreak and also assured people that the government is taking all necessary steps to control the situation
PM Modi also added in his address that he asked the local administration to clap and ring bells at 5 pm on March 22 as a form of gratitude to the workers who are fighting the coronavirus.
To remain safe from the coronavirus, PM Modi advised people that to stay indoors as no cure has been found yet.
After Modi concluded his speech, Twitter has been flooded with several reactions to Janta Curfew and Modi's address.
Check out reactions:
An excellent initiative by PM @narendramodi ji...this Sunday, March 22 from 7 am to 9 pm let's all join in the #JantaCurfew and show the world we are together in this. #SocialDistancing

— Akshay Kumar (@akshaykumar) March 19, 2020
यह ताे मोदी सरकार का बेहतरीन मैनेजमेंट है इसलिए भारत अभी तक कोरोना के बहुत बड़े दुष्प्रभाव से बचा हुआ है,वरना यकीन मानिए कांग्रेस का राज होता तो भारत के आधे से ज्यादा नागरिक अभी तक काेराेना की चपेट में होते 🙏 #ThankYoumodiji #Coronaindia #Coronafighters #coronovirusindia

— OnlyTushar® (@onlytusharJ) March 19, 2020
Modi ji said do Janta Curfew on Sunday.

It's easy for all working ppl. They anyway love staying at home on Sundays. Yayyyy

— Ashu (@muglikar_) March 19, 2020
Janta Curfew between 7 AM to 9 PM on 22nd March. That's the time when Corona Virus comes out to hunt for victims

— Joy (@Joydas) March 19, 2020
Great Initiative from govt lets unit for this

— Ganesh Paisole (@gspaisole) March 19, 2020
Some disaster is going to strike the country soon which will be deadlier than Corona virus.

— Satish Kapur (@SatishKapur4) March 19, 2020
I welcome @PMOIndia @narendramodi 's call to solidarity at this challenging time. Will support #JanataCurfew while conscious that Sunday is the easiest day to try it. Need more reinforcement of social distancing (incl suspending Parliament) & specific economic relief measures

— Shashi Tharoor (@ShashiTharoor) March 19, 2020
Due to coronavirus outbreak in India, the death has climbed to 173.
What's your take on Janta Curfew announced by PM?
Also Read: Indian Railways' big decision amid coronavirus fear, cancels 168 trains; see list