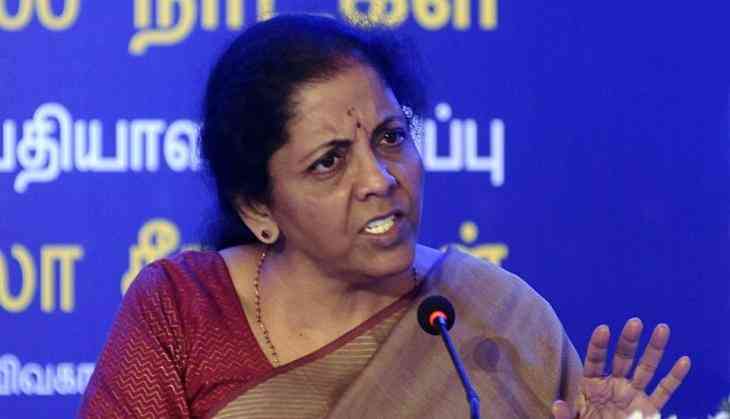 Finance Minister Nirmala Sitharaman on Tuesday blamed millennials for the slowdown in India's automobile industry. She told in a press conference that millennials mostly prefer to travel by app-based cab services which have affected the auto market.
According to the news agency ANI, "Automobile industry is now affected by BS6 and the mindset of millennials, who now prefer to have Ola or Uber rather than committing to buying an automobile."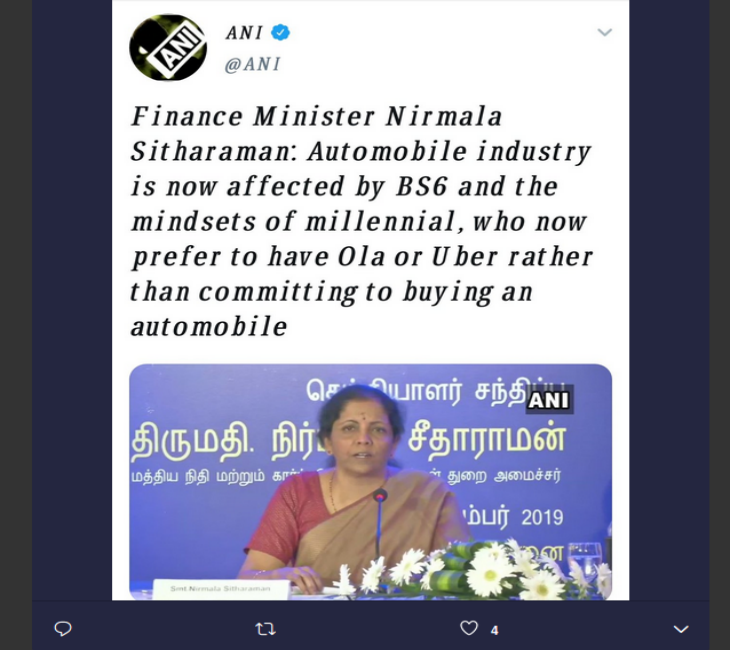 This remark of Union Minister came after the heavy drop in the Automobiles sales in August across categories. According to the data provided by industry body SIAM, passenger car sales have fallen by as much as 41.09 percent.
Finance Minister also stated that the youth of the country generally prefer to take Ola and Uber instead of purchasing personal vehicles.
She also briefed that "Some studies do tell us that mindset of millennials, who are now preferring not to commit an EMI (equated monthly installment) for buying an automobile, instead prefer to take Ola, Uber, everything else, or take the metro. A whole lot of factors are influencing automobile sector. We are trying to solve the problem for them."
Moreover, these remarks of Sitharaman didn't go down so well with the millennials and they completely disagree with her statement.
Soon, the hashtag #BoycottMillennials started trending on the micro-blogging site Twitter.
Check out how Netizens reacted:
Funniest trend in twitter today😂

BHEL is at 15 year low as Millennials prefer panipuri

The property market is down because millennials have started 'live-in' relationships

Fall in agricultural sector because millennials prefer pizza instead of daal roti,#BoycottMillennials

— Sunder (@SunderjiJB) September 11, 2019
Shaadi me Mandi, dulha nehi mil raha
Coz millennials are preferring live in#BoycottMillennials pic.twitter.com/RLv8lguncY

— soutweets (@soutweets) September 11, 2019
Tourism is down because people are seeing photos and videos of places online.#SayItLikeNirmalaTai#BoycottMillennials pic.twitter.com/icT6iJMciE

— Alex PM Deshma 🇮🇳 (@PmDeshma) September 11, 2019
Tourism industry is failing in India because millennials are all busy visiting Russian places like pochinki, georgopool, rozhok, NOVOsjsjdjBhosda#PUBGMOBILE#BoycottMillennials
And people like Dynamo and mortal are influencing the youth#boycottStupidity

— hasnain khan (@ZoroDaadee007) September 11, 2019
Oxygen crisis will be occur because millennial inhale more oxygen in the morning. #BoycottMillennials pic.twitter.com/0LKxC8u3BW

— Muhammd Ali (@alikarwi00) September 11, 2019
Babu Millennials have stopped gifting chocolates to Shona millennials because of this dentist industry is going down and dentist doing su!c!des.#BoycottMillennials

— Chowkidar Nirav Modi (@niiravmodi) September 11, 2019
Do you agree with Finance Minister Nirmala Sitharaman statement on automobile industry slowdown? Comment...
Also Read: Nirmala Sitharaman on automobile sector slowdown: Uber-Ola mindset of millennials important factor