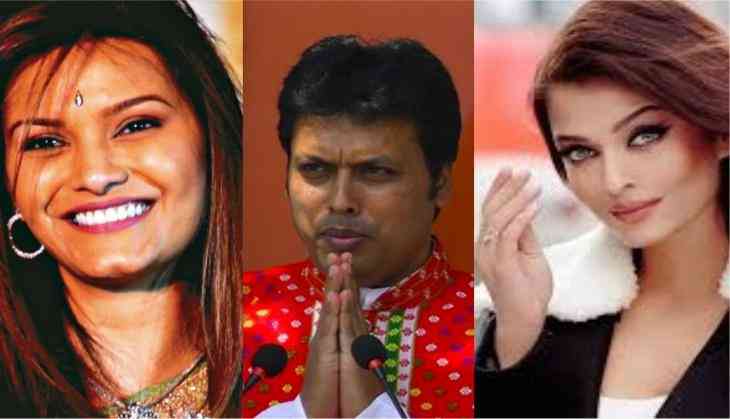 Newly elected Tripura CM Biplab Kumar Deb is at it again. A few days ago, Mr Deb made a controversial remark that During Mahabharata the internet and satellite existed. This statement of Tripura CM led back to back many outrages after the statement went viral. After internet and Mahabharata, Deb has triggered a fresh controversial statement over Diana Hayden and Aishwarya Rai winning the Miss World title.
"International beauty pageants like the ones held in Paris are nothing but a marketing mafia. They make women walk on ramp wearing their fabric. It's all done by the international textile market mafia. They decide beforehand who should be crowned which year," Deb said while addressing an event for handloom artisans at Prajna Bhavan in Agartala.
"Even Dिana Hayden got it (the world title). See, everyone is laughing. Tell me, was Diana Hayden supposed to get it? Aishwarya Rai got it. That's justified because she carries the essence of the beauty of Indian women. Indian beauty is all about Goddess Laxmi, Goddess Saraswati... Diana Hayden does not fit that class of beauty," he said. Then he added a disclaimer - "I am not opposing her though".
Mr Deb mocked everyone from "the International fashion designing in Paris", "international textile" and the cosmetic industry. He called the "international fashion mafias". Rasing the question on the selection process for international beauty pageants, Deb said such events are run by cosmetics giants with an aim to capture developing markets in countries like India.
"For five consecutive years, Miss World and Miss Universe titles were awarded to India. Anybody who participated was crowned, even Diana Hayden got it [says with a laughter]," he said.
The chief minister added, "Tell me, did she [Diana] deserve it? People might say Biplab Deb is creating a controversy."
Deb further added that "for Indians, Goddess Laxmi and Saraswati exemplify beauty". "I don't understand the beauty of Diana Hayden. I am not opposing her, but simply questioning the process," Deb said.
Also, read: Rahul Gandhi's aircraft technical snag may be 'intentional tampering' says Congress, demands probe; FIR filed against the pilot