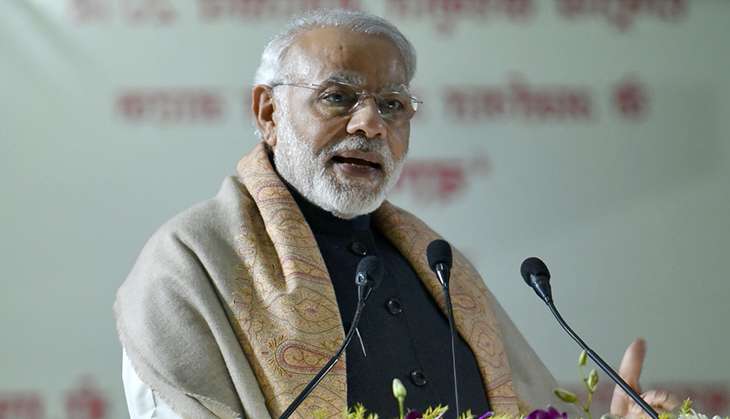 On Saturday, Prime Minister Narendra Modi said that his government will not hesitate to take difficult decisions in the interest of the country and favoured more taxes from capital markets.
Addressing a public rally, he Warning of "ruin" for the "dishonest" after 30 December and asked the dishonest not to underestimate the mood of the country against corruption.
"Dishonest people, you should not underestimate the mood of 125 crore people. You will have to be afraid of it... Time has come for ruin of dishonest people. This is a cleanliness campaign," PM Modi said just with a week to go for the expiry of the December 30 deadline when the scrapped Rs. 500/1000 notes can be deposited in banks.
"After 50 days (from November 8), the troubles of honest people will start to reduce and the problems of dishonest people will begin to increase," PM Modi said at MMRDA ground in the Bandra Kurla Complex (BKC) here after laying foundation of various big ticket infrastructure projects.
Earlier in the day at a Sebi function, PM Modi promised more "sound and prudent economic policies" which would be "not for short-term political point-scoring" but for "larger national interests".
"Let me make one thing very clear: This government will continue to follow sound and prudent economic policies, to ensure that we have a bright future in the long-run. We'll not take decisions for short-term political point-scoring. We'll not shy away from taking difficult decisions, if those decisions are in the interest of the country," PM Modi said.
He favoured increasing the tax contribution from various market participants in a "fair, efficient and transparent way".
Asking the regulators and taxmen to think about the contribution of market participants to the exchequer, PM Modi said, "The low contribution of taxes may be due to the structure of our tax laws. Low or zero tax rate is given to certain types of financial income."
The Prime Minister's remarks assume much significance ahead of the Budget to be presented on February 1.
"We took a big decision against black money and corruption on November 8 and 125 crore Indians endured pain but did not stop supporting me. I want to assure people of the country that this battle won't end till we win it," he said.
Hitting out at parties opposing demonetisation, he said, "This is not a simple battle. Those who have consumed malai (cream) did not leave any stone unturned to foil this (demonetisation)."
PM Modi said, "The corrupt have made all efforts to defeat the decision (demonetisation). They even thought of managing bank officials to get their black money converted into white. And that's how many of them got caught."
"I said there will be pain for 50 days (after demonetisation announcement)," he said, adding people are ready to bear the pain in the country's interest.
The Prime Minister inaugurated a new campus of capital markets regulator Sebi's National Institute of Securities Markets (NISM) at Patalganga on the outskirts of Mumbai at an event also attended by functionaries of the Maharashtra government led by the governor and the chief minister, Union finance minister Arun Jaitley and Sebi chairman U K Sinha.
Describing the November 8 announcement of cancelling as much as 86 per cent or Rs. 20.51 trillion worth of currency in circulation as a "difficult decision", he said, "Demonetisation has (brought about) short-term pains, but it will bring in long-term gains."
On the need to increase levies on the capital markets in the light of amendments to the many of the bilateral investment and taxation treaties, PM Modi said, "Those who profit from financial markets must make a fair contribution to nation-building through taxes.... We should consider methods for increasing it in a fair, efficient and transparent way.
"... Now it is time to re-think and come up with a good design which is simple and transparent, but also fair and progressive," PM Modi said, adding for various reasons, contribution of tax from those who make money on the markets has been low due to illegal activities and frauds or due to the structure of our tax laws which offers low or zero tax rate is given to certain types of financial income.
The Prime Minister said his government has brought back the economy to good health from the brink when it was saddled with high fiscal and current account deficits and high inflation and falling rupee, since he took over in May 2014.
He further said that when the global economy is fighting lingering slowdown, "India is being seen as a bright spot.
"Our growth is projected to remain among the highest in the world."
- PTI