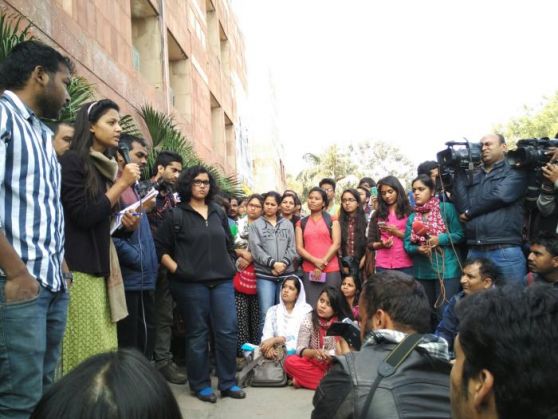 The JNU Students Union will host a public meeting today with former navy chief Admiral Laxminarayan Ramdas, anti-nuclear activists Lalita Ramdas and Kumar Sundaram, Punjab MP Dharamvir Gandhi and CPI(ML)-Liberation leader Colonel Lakshmeshwar Mishra on the topic 'Demilitarising Nationalism: anti-war perspectives on patriotism'.
"The ABVP has been firing at JNU from the shoulders of retired soldiers. The veterans and others we've called tomorrow will give us a more rational narrative of patriotism," said Shehla Rashid, vice president of the JNU Students' Union.
The meeting was called after the JNU administration met ex-servicemen to discuss the instilling of patriotism among students by placing war memorabilia, including a battle tank, on campus.
The National Defence Academy at Pune is affiliated to JNU.
Meanwhile the JNUSU has said that HRD Minister Smriti Irani has undermined a university enquiry into the alleged anti-national incident on campus on 9 February by naming the students charged in the case in Parliament.
"Officially, the JNU administration's 'inquiry' is still on. But what remains of the 'inquiry' when the minister has already named the students in Parliament as 'guilty' on the basis of the committee's report?" asked Rashid.
In the nationalism debate in Parliament on Wednesday, Irani had named eight students who have been debarred from academics until an investigation into the 9 February event is complete. Three of these students, Kanhaiya Kumar, Anirban Bhattacharya and Umar Khalid, are in police custody. The other five refuse to participate in the investigation, which they claim has suspended them without a hearing.
2Students who are not guilty have their names in Parliament records. This is an abuse of the parliamentary system," said former JNUSU president Ashutosh Kumar, who is wanted by the police in the case.
A JNUSU statement said: "The MHA/MHRD as well as the JNU administration worked in close coordination to trample upon every institutional propriety to crackdown on students who differ with the ABVP-RSS-BJP.... The Modi government has been orchestrating a vicious campaign of lies and calumny against JNU. Fake/parody tweets have been circulated to claim that the JNU protests were funded by the LeT, doctored videos have been circulated by BJP spokespersons and the official BJP twitter handle, the Delhi police (which come under the MHA) lied that it had proof that JNUSU President Com. Kanhaiya was shouting anti-national slogans."
It added: "Smriti Irani showed all too clearly in Parliament anything against the RSS's agenda will be branded as 'anti-national'. Anyone who talk about police repression, Adivasi/ Bahujan traditions of celebrating Mahishasura, Dalit traditions of beef eating will be branded 'anti-national' by the ABVP-RSS-BJP, and the entire State machinery will be used to hound them. The floor of the Parliament cannot be used to whip up frenzy against students across universities."