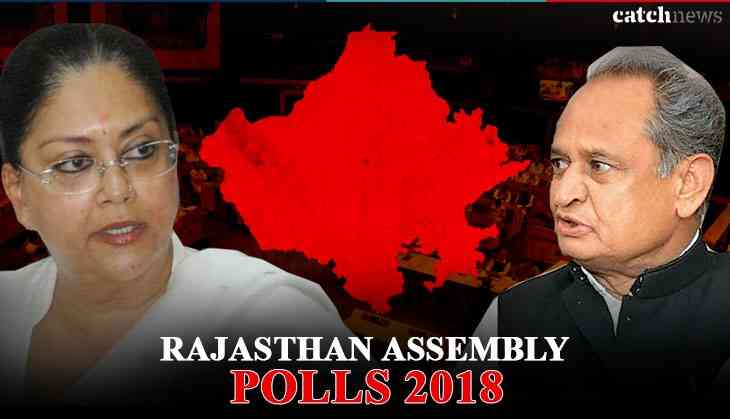 In Rajasthan, the Congress is going to have a big win in the assembly elections that are scheduled for the end of the year that will give a clean sweep to Vasundhra Raje-led BJP government. According to ABP News- CVoter Opinion Poll, the Congress will fetch 130 seats in upcoming assembly polls, while BJP can roll down at 57 seats only and others 13 seats. The first choice for chief minister of the Rajasthan according to the survey of ABP-CVoter is the Congress' popular leader.
The National Organization Secretary of the Congress, Ashok Gehlot is CM's first choice with 41 per cent votes. Vasundhara Raje is the third choice with 18 per cent vote, while Sachin Pilot ranks second with 24 per cent votes.
Also read: Congress Vs BJP: Ahead of ABP News-C survey, Shashi Tharoor takes a dig at PM Modi government; calls it 'Beginning of the end'
There is a sign of relief for BJP in Lok Sabha polls as it leads with 47 per cent seats, while Congress has 43 per cent seats. A fresh ABP-CVoter opinion poll released on Monday evening ahead of Assembly elections in the three states, i.e Rajasthan, Madhya Pradesh and Chattisgarh scheduled by the end of the year have emerged as a wake-up call for PM Narendra Modi-led BJP government.
According to CVoter survey conducted by ABP news, the BJP is likely to lose in all three upcoming Assembly polls in Rajasthan, Madhya Pradesh and Chhattisgarh. ABP and CVoter released the opinion poll on Monday evening. The survey was reportedly conducted between 1st June to 10th August 2018 by the ABP-Cvoter.
It is to be noted that all the three states Madhya Pradesh, Chattisgarh, including Rajasthan are ruled by the Bhartiya Janta Party. Where Rajasthan is under Vasundhara Raje governance, Madhya Pradesh under Shivraj Singh Chouhan and Chhattisgarh under Raman Singh. All the three states are scheduled for the assembly elections in the 2018 months before the Lok Sabha Elections that is scheduled for the next year in 2019. The 2019 Lok Sabah Elections that are scheduled for the April-May.
Also read: Assembly Elections 2018: ABP News-CVoter Survey shows a big fall in BJP's vote percentage; see the difference of vote share