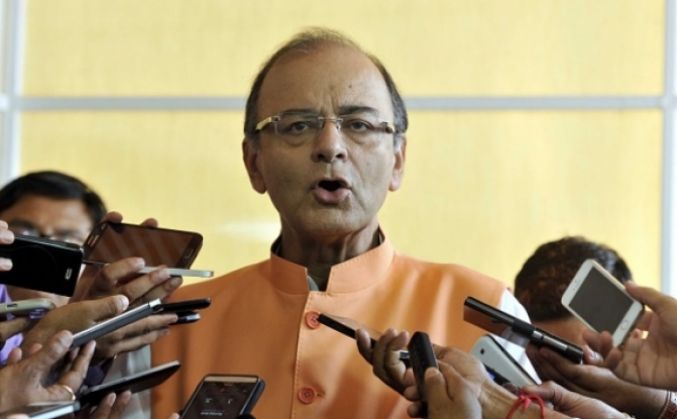 Finance Minister Arun Jaitley today accused the Opposition Congress party of playing 'petty politics' and prioritising their own agendas over issues of national importance. The Leader of the Rajya Sabha said Congress had 'failed the test' to show their commitment.
Jaitley was reacting to proceedings in the Lok Sabha today where Home Minister Rajnath Singh was to speak on the Gurdaspur attacks. Singh was cut short as opposing voices drowned him out and Parliament had to be adjourned.
"Congress, instead of giving importance to national security, gave priority to its petty politics and prevented a discussion on the issue...," Jaitley said. "I feel today Congress had an opportunity to display responsible behaviour. It was an occasion when issues of national security are involved; they should have risen to a level of statesmanship. Regrettably, they have failed that test,".
Since the Monsoon session of Parliament began, not a single day has passed without a forced adjournment. Every minute of Parliament's functioning costs the exchequer nearly Rs 20,000. Several important bills, such as the Goods and Services Tax bill, the Land Acquisition Bill and the Benaami Transaction Bill are to be discussed in the legislature.
Congress has made it clear the unless BJP removes its leaders who are involved in various controversies, it will not discuss further issues in the Parliament. Congress wants Foreign Minister Sushma Swaraj, Rajasthan CM Vasundhara Raje Scindia and Madhya Pradesh CM Shivraj Singh Chauhan ousted in lieu of the Lalit Modi controversy and the Vyapam scam.
Jaitley also emphasised the Opposition's incoherent stand on the hanging of 1993 Mumbai Blasts convict Yakub Memon. The whole country ought to stand together on the issue of terrorism, he said, pointing his remark to Congress President Sonia Gandhi. He said: '...(Congress ought) to explain its leaders, and why they have come out with contrarian statements with regard to the punishment given by the judicial process in the 1993 Mumbai blasts case'.