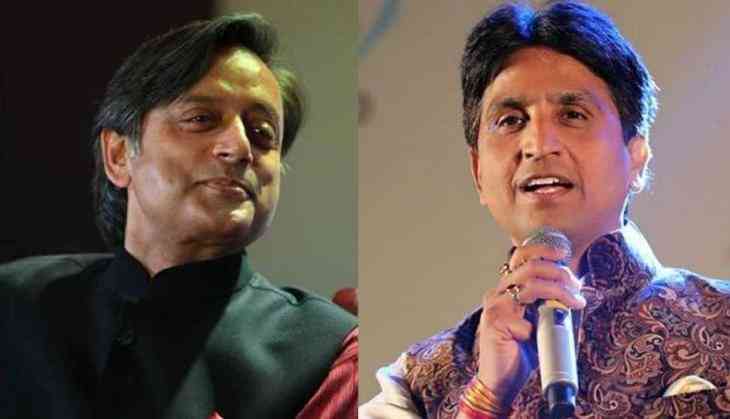 Aam Aadmi Party leader Kumar Vishwas hilariously trolls Congress MP Shashi Tharoor over his English. The popular poet-cum-singer took Twitter to share a video of a man speaking long English words like Shashi Tharoor, to which Congress Senior leader responded by tweeting in the Hindi language, "What's better than people becoming brothers by just talking alike."
Shashi Tharoor tweeted, "rangon, bhaasha, lahajon mein hee thodee see judaee hai asal mein duniya kunaba hai, aur sab bhaee-bhaee hain" agar sirph jubaanee lahaja milane se hee koee bhaee banata hai to isase achchhee baat kya hogee, chalo ab AAP ke lahaje mein baat kar lete hain, ab ham bhee vahee hue ke nahee?
"रंगों, भाषा, लहजों में ही थोड़ी सी जुदाई है
असल में दुनिया कुनबा है, और सब भाई-भाई हैं"

अगर सिर्फ जुबानी लहजा मिलने से ही कोई भाई बनता है तो इससे अच्छी बात क्या होगी, चलो अब AAP के लहजे में बात कर लेते हैं, अब हम भी वही हुए के नही?

— Shashi Tharoor (@ShashiTharoor) November 15, 2018
Earlier, Vishwas tweeted "Shashi Tharoor's brother who was lost in Kumbh festival has been found! Congratulations!" and shared a video.
कुंभ के मेले में बिछड़ कर कैमरून जा पहुँचा @ShashiTharoor जी का भाई आख़िरकार मिल गया ! बधाई 🤣👍 https://t.co/LtmfiWI1Ex

— Dr Kumar Vishvas (@DrKumarVishwas) November 14, 2018
As assembly elections are approaching, the war or words are on the high scale between all political parties. By the end of the year, assembly elections in five states, Rajasthan, Madhya Pradesh, Chhattisgarh, Telangana and Mizoram is to take place.
Although since, long Kumar Vishwas is being critical for Arvind Kejriwal-led Aam Aadmi Party. He has been seen attacking his party and its member several times.
Also read: Noida: At least 12 students injured after a school bus into a divider at Rajnigandha Chowk underpass; driver and conductor critical