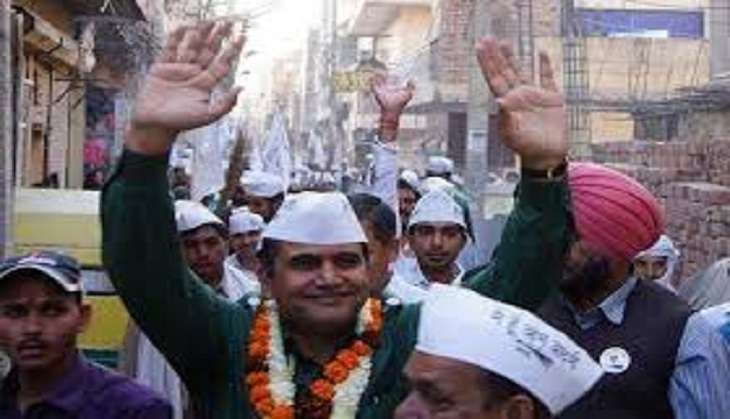 In the wake of the row over former Aam Aadmi Party MLA Sandeep Kumar's objectionable CD, AAP MLA from Bijwasan, Colonel Devinder Sehrawat has written to party convenor Arvind Kejriwal.
The AAP lawmaker wrote to Arvind Kejriwal expressing his concerns about the lack of integrity in the party and alleged that the situation"is getting indefensible and disgraceful and action needs to be taken to remove rotten elements".
In the letter, Sehrawat alleged that the several other AAP members were exploiting women on the pretext of giving them tickets.
Also Read: Sex CD case - Following woman's complaint, former AAP minister Sandeep Kumar surrenders
"I saw disturbing reports about women being exploited in Punjab in return of or promise of tickets. I am meeting people in Chandigarh to check the position on ground... Dilip Pandey is doing same in Delhi," Sehrawat wrote.
"If someone exploits women for tickets then nothing can be more wrong. If the leadership is not doing anything then somewhere they are also involved. It is not acceptable that four people will rule the country and the party," he wrote.
"I appeal to Kejriwal to clear the stand of the party. If someone does this kind of activity then he should be removed from the party," added Sehrawat.
He also called out journalist-turned-politician Ashutosh for his views, wherein he had cited examples of leaders like Mahatma Gandhi and Jawaharlal Nehru who had lived with "desires beyond social boundaries" and questioned why sex between two consenting adults should be debated. Urging Kejriwal to sack Ashutosh for his views, Sehrawat said that his comments are not "as per the acceptable value systems".
Meanwhile, following the arrest of AAP minister Sandeep Kumar after the woman in the sex tape filed a complaint with the police claiming that she had been given sedatives and raped, his wife declared her support for him, and alleged that he was being framed.
"My husband is innocent, I stand by him. Rape charges against my husband are wrong," Ritu was quoted to have said in an NDTV report.
"This is a political conspiracy against us. Our case is ongoing. The truth will come out before everyone very soon," she said.