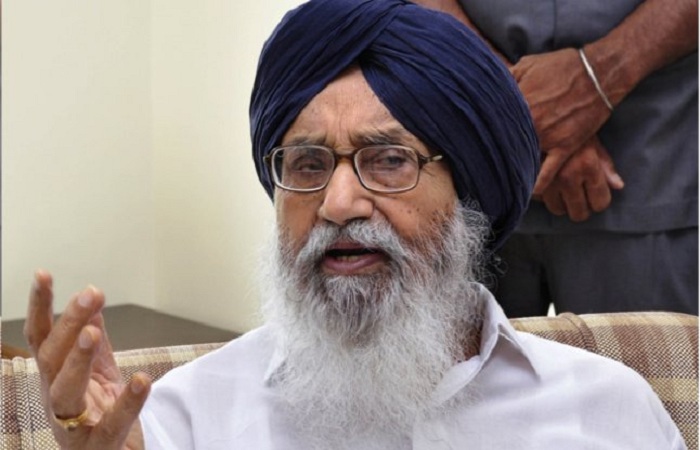 In a stinging attack on the Aam Aadmi Party (AAP), Punjab Chief Minister Parkash Singh Badal on 1 April described the Arvind Kejriwal-led party as a "band of fugitives" and "anti-Punjab elements". He warned the people of Punjab to not to fall pray to what he termed as the AAP's "misleading propaganda".
With the state slated to hold Assembly polls in about a year from now, he urged the people of Punjab to give another opportunity to the SAD-BJP alliance to serve them and ensure "sustained pace of all-round development and prosperity of all sections of society".
Speaking at an event held in Tohra village to commemorate the 12th death anniversary of Panth Rattan Shiri Gurcharan Singh Tohra, Badal said:
"AAP has no definite agenda for the overall development of the state and welfare of its people. However, their sole agenda is to rule Punjab by hook or crook just to satiate their lust for power".
He described the AAP as "band of fugitives and anti-Punjab elements" and asked the people of the state to be wary of their "nefarious designs and narrow political vested interests". Badal said the "inexperienced" leadership of the AAP would spell trouble for Punjab as was "evident from its Delhi model of governance".
The Akali Dal leader also accused the AAP of "fiddling" with the sentiments of the innocent people of Punjab.
"Any political outfit indulging in such gimmicks just to befool to fulfill their political ambitions should refrain from it".
"How can you expect a new political entity to do justice, when it is not aware of the hardships faced by the people at grass roots level?"
Training guns on Congress, Badal said that the opposition party had surpassed "all records of betraying the people of Punjab on every issue, be it social, political, economic or religious." He said a classic example of their apathy towards Punjab was having denied its rightful share in river waters in defiance of nationally and internationally accepted riparian principle, the attack on Harmandar Sahib, the 1984 genocide of Sikhs and depriving Punjab of Chandigarh as the capital and transferring Punjabi-speaking areas to the state.
On the other hand, Badal said the SAD-BJP alliance was a "trusted and time-tested brand because of which people reposed unflinching faith and confidence in its policies and programmes".
-- PTI