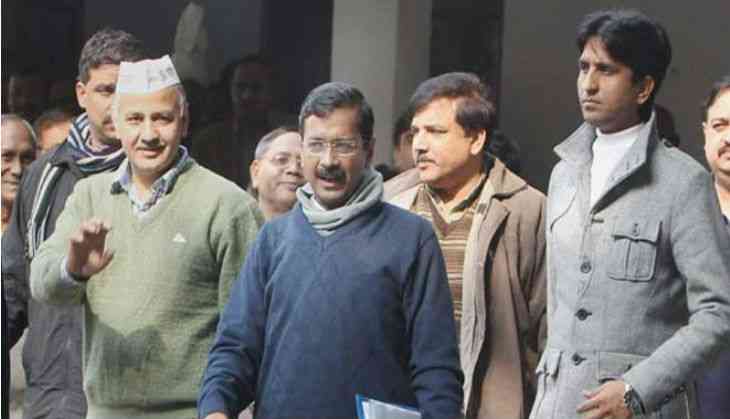 Delhi Chief Minister Arvind Kejriwal gave his best shot to slide the controversy under the rug but the crack in the Aam Aadmi Party has widened. The fissure is out in open with AAP leader Kumar Vishwas threatening to quit the party.
The party, on May 2, put in efforts to pacify the visibly upset Kumar Vishwas as Kejriwal and deputy CM Manish Sisodia visited him at his residence in Ghaziabad.
"Kumar Vishwas is inherent part of our movement...he is upset, but I'm hopeful that we will be able to convince him," Mr Kejriwal had said after meeting Vishwas.
Earlier in the day on Tuesday, Vishwas had defied Kejriwal's gag order of not talking to the media and said he will keep highlighting the mistakes of the Aam Aadmi Party and say what is right in the interest of the country.
"If by raising voice in favour of the nation my party gets upset, even then I will keep on raising these issues," Vishwas said.
The rift in the party came to fore when Okhla MLA Amanatullah Khan had alleged on Sunday that Vishwas was plotting a coup against Kejriwal and that he was an "RSS-BJP agent".

The statement angered Vishwas as he said, "Had Amanatullah Khan said anything like this against Arvind or Manish, he would have been shown the door in 10 minutes."
During the press conference conducted on 2 May, Vishwas claimed that Khan is merely a "mask" behind the "coterie" hatching conspiracies against him.
"A lot of tarnishing of image will take place. Let me tell those hatching conspiracies that I will not let this happen. I will take a decision in a day," said a teary-eyed Vishwas.
Khan had resigned from the party's Political Affairs Committee over the spat with Vishwas.
The political circuit is abuzz with rumours that the poet-turned-politician wants to head the party, while he has asserted that he harbours no ambitions to become chief minister, deputy chief minister or AAP national convener.
Several MLAs too are in favour of a greater role for Vishwas in the AAP after the party's poor show in the Punjab Assembly and MCD polls.
They also expressed their displeasure over the "coterie" surrounding Kejriwal, as claimed by Vishwas, but pledged their loyalty towards the Aam Aadmi Party chief.
"I have conveyed this to Arvind, Manish (Sisodia) and I reiterate it today that I don't want to become chief minister, deputy chief minister or AAP's national convenor.
"I don't want to join any political party or Swaraj India (political party founded by expelled AAP leader Yogendra Yadav and Prashant Bhushan). I don't know what you want to do, but I don't want to do this," Vishwas told reporters outside his Ghaziabad residence.
Vishwas's step of talking to the media after not attending the PAC has miffed Sisodia.
"He doesn't talk in the PAC. He should speak there," Sisodia said, adding Vishwas is turning this into a "personal fight".
"It would be wrong to say that only Kumar, Arvind Kejriwal and I made the party, which he has been repeating. He should speak in the PAC. He did not attend last night's PAC. I and Sanjay (Singh) had gone to meet him. Arvind has spoken to him for three hours at a stretch," Sisodia said.
Workers know which party, individuals and powers are getting benefited from Vishwas' television interview, Sisodia said, as he urged him to come to PAC and raise these issues.
Kejriwal had earlier sought to quell rumours of a rift with Vishwas by referring to him as his "younger brother".
After the MCD poll debacle, Vishwas had differed with Kejriwal on the issue of electronic voting machines (EVMs). He had refused to attribute the AAP's recent poll upsets to alleged manipulation of voting machines and had instead stressed on the need to introspect.
He had pointed out the "communication gap" between party leadership and volunteers after a string of electoral defeats in the past few months.
"I thought after six electoral defeats, I had pointed out the right reason for the debacle. The coterie was responsible (for the defeats) which was behind ticket distribution, the one who engineered the statements (given by Khan). The morale of our volunteers has taken a hit," Vishwas said, adding that several of them left their jobs for the party.
He had also differed with Kejriwal over the controversy after the surgical strike and said it could have been avoided.
- - With PTI inputs