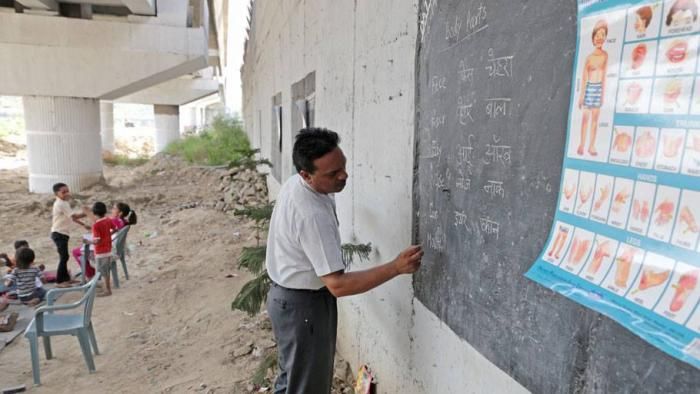 Literacy is a fundamental human right and more importantly, a foundation for life long learning. But it is unfortunate that even after 68 years of independence, India has the biggest illiterate population in the world.
However, there are numerous inspiring stories from across the country where people have stood against all the odds to fight for literacy and make a difference in their own and others' lives.
Dreaming under the bridge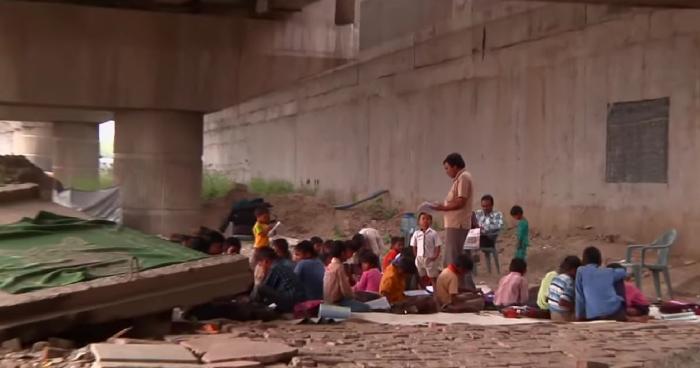 This is a story of a small school being run in an unusual location by an unusual teacher.
Rajesh Kumar is a shopkeeper by profession but spends a few hours every morning teaching around 80 disadvantaged children under a flyover in Delhi.
The 43-year-old had visited the construction site of a Delhi transit station a few years ago and saw that many local children were playing around the site the entire day instead of attending school.
Perturbed, he questioned their parents who worked at the construction site about their education and they had just one answer; there are no schools in the vicinity.
Kumar took took it upon himself to educate these children and started a small school under the Yamuna Bank Metro station. Everyday, children from the neighbouring slum gather here to let their imagination take over as Kumar leads the way.
There are no chairs or tables and students sit on rolls of polystyrene foam placed on the rubble.Three rectangular patches on the wall are painted black and are used as blackboards. Anonymous donors have contributed cardigans, books, shoes and stationery for the children, as their parents cannot afford them.
Another anonymous well wisher sends a bag full of biscuits and fruit juice for the pupils every day - another incentive for the children to turn up at the makeshift school.
Meet the youngest headmaster of India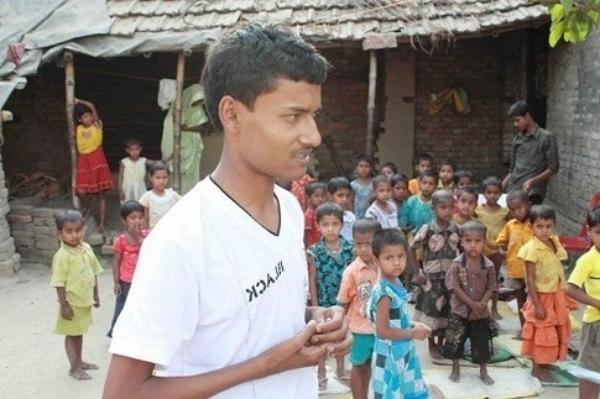 Our education system invokes a lot criticism from across the nation but one boy created a system of his own for the world to see and explore.
Babbar Ali, a 16-year-old from Murshidabad, West Bengal, transformed his deep desire to educate the children in his neighborhood into reality by setting up a school of his own. Ali attends school with his peers from morning to late evening after which he heads to his own school named 'Anand Shiksha Niketan' where he is the headmaster.
Starting with just eight students nine years ago, the strength of the school has reached 800. The school is being run in a temporary concrete structure without any major infrastructure, and provides free education to kids who travel a lot just to attend his school .
A cart of hope
Santosh Mahto, a street-food vendor from Ranchi, might not have been able to achieve what he desired but he is doing all he can do to make his son's dreams come true.
"My son studies in a private school. He is intelligent, that is why I send him here. We live in a house where the rent is Rs. 700 whereas I pay Rs. 500 as Karan's school fees. I'll educate him till he wants to study. I am not well-educated but I do know how to sign," says Santosh.
Customers who shop at his cart are often surprised to see Karan studying under the cart. Wondering why Karan is studying under a cart? The reason is interesting. The child has many doubts when he studies, and Santosh is not always able to explain everything. In such cases, he asks his customers for help. Customers who come to his cart to eat samosas and omelettes are more than happy to lend a helping hand. This is not just a heartwarming story of a family's efforts towards education, but also an example of smart crowd sourcing!
A will to make a difference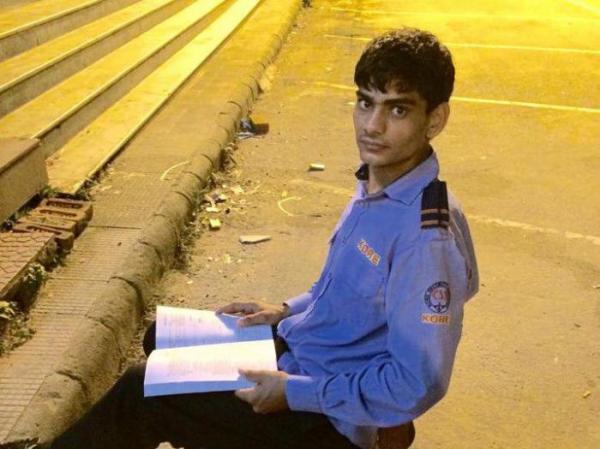 Twenty-year-old Balinder Singh, who works as a security guard at an ATM in Delhi, is sure to motivate many of us. Visitors often spot him reading books whenever they happen to pass by. One day, a man named Harsh stopped by and asked him which book he was reading. He was surprised when Balinder told him that he was actually preparing for the entrance exam of Staff Selection Commission (SSC).
In a Facebook post Harsh wrote: "At once I thought it might be some comic or masala book he must have been enjoying to kill the time but after looking closely I realised that it was not. Unable to hold my curiosity I asked him 'Bhaiya kya parh rahe ho' at which with a big smile on his face he said 'mein SSC entrance ki taiyari kar raha hun'. I asked him again to why is he studying under street light and not inside ATM equipped with AC. He replied that after 12 midnight the AC is closed and so he has to sit outside which is absolutely fine for him."