Somi Das
| Updated on: 14 February 2017, 5:27 IST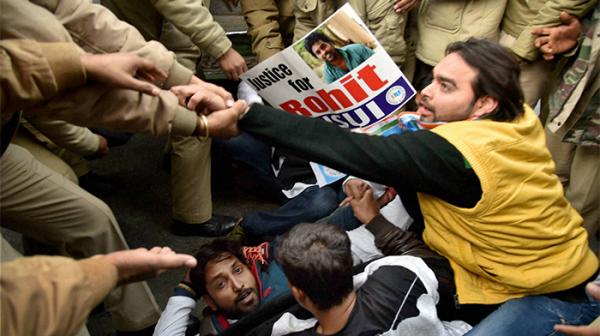 When HRD Minister Smriti Irani was asked to react to the accusations that letters between between her, Labour Minister Bandaru Dattatreya and the Vice Chancellor of University of Hyderabad had led to Rohith Vemula's expulsion along with four other Dalit students, she was very dignified in her response.
She was quoted by ANI as saying:
"In a time of grief like this, I express my condolences to the family who lost their son. We have sent a two-member team from the ministry who will apprise us of the situation in the university. Everyone knows that in Central Universities, the administrative control belongs only to the varsity. The government has no role to play."
However, it later emerged that not one but four letters went from her office to the VC's office. Four reminders were sent to the University administration asking them to take action on the "VIP" complaint of Dattatreya that the campus had "become a den of anti-national and casteist activities". The complaint alleged that the students of an Ambedkaraite organisation - of which Vemula was a part - were responsible for physically assaulting ABVP president Susheel Kumar.
BJP
national secretary Siddharth Nath Singh said that Irani had merely forwarded a complaint about the alleged anti-national activity of some students on the campus to the HRD Minister, and only wanted the University authorities to take appropriate action.
The BJP has been very critical of Rahul Gandhi and Arvind Kejriwal for "politicising the issue" of Vemula's suicide.
Suicide of Rohith Vemula has nothing to do with Dalit issues or rights just because he was a Dalit. It is merely politicising of the issue.

- P Muralidhar Rao (@PMuralidharRao) January 19, 2016
Congress did gross injustice to Dr.B.R.Ambedkar & harassed him all his life. Now Sh.@OfficeOfRG & Sh.@digvijaya_28 championing Dalit cause!!

- P Muralidhar Rao (@PMuralidharRao) January 19, 2016
Sh.@ArvindKejriwal, like always,is trying to fish in troubled waters in the politicized issue of Rohit Vemula suicide! #StopIdentityPolitics

- P Muralidhar Rao (@PMuralidharRao) January 19, 2016
However, even in their defence of Smirti Irani and Dattatreya, the party has failed to justify why the HRD ministry seemed to support a BJP minister who had interfered in what was a tiff between two student unions. Clearly, the matter has been a political one from the very beginning.
BJP working overtime to discredit Vemula's credentials as a Dalit voice
Now the BJP's online army and the party's Telangana unit are working overtime to defend the actions of its ministers. The party seems to be leaving no stone unturned to paint Rohith Vemula - just a day after he was "secretly cremated" - as being anti-national and a "terror apologist".
A special mention goes to the efforts by Sanju Verma, whose Twitter profile describes her as: "Spokesperson-BJP Mumbai;Co-Convener,Intellectual Cell-BJP Mumbai."
Verma went on a rampage on Twitter, calling Vemula a vandal and terror apologist. She collected a number of Facebook status posted by the Dalit scholar on a range of issues. One particular post, which according to her qualifies Vemula as an anti-national citizen, is a strong criticism of Vivekanda's view on the Caste system.
.@BDUTT Did a disgruntled terror apologist,known for abusive anti-national rants(read his FB posts)drive himself to death? #TerrorApologist?

- Sanju Verma (@Sanju_Verma_) January 19, 2016
.@rupasubramanya U are free to hallucinate as u often do;If u wish to make a national hero out of a vandal,go ahead.. #BadLogic #Distasteful

- Sanju Verma (@Sanju_Verma_) January 19, 2016
Cc @Sanju_Verma_ @BDUTT pic.twitter.com/DCGTXkGyXU

- Mirror of India (@anilkapur_) January 19, 2016
The BJP's stand on the issue is becoming fast clear. The party seems to be of the opinion that action was taken against Vemula for "anti-national activities" like protesting against the hanging of Yakub Memon".
The Telangana unit of the party is working to dig out evidence from Vemula's Facebook page to prove his "anti-national" credentials - they also circulated videos recordings of his speeches to buttress their point.
The Indian Express quoted BJP general secretary P Muralidhar Rao as saying: "Many of his speeches, for which we have videos, show he had views that were supporting terrorists like Yakub Memon."
"Disciplinary action was taken against Rohith at the advice of the court and even a lenient stand was taken by University authority by permitting him to the campus except the hostel. The context of the clash between student groups was Rohith's stand in support of terrorism, including that against the hanging of Yakub Memon."
The Yakub Memon angle has put the parties involved in a fix. Students of the ASA claim that the reason behind the face-off with BJP Susheel Kumar, was not a result of a protest against capital punishment.
The students claim the tiff was a result of the screening of the documentary, Muzaffarnagar Abhi Baaki Hai, by the ASA students in University of Hyderabad.
Students of the ASA also said that the Yakub Memon protests did not feature in the probe into Kumar's complaint.
The Memon protests were reportedly brought into focus only later, when Pandu Reddy, the Finance Officer of University of Hyderabad filed a counter affidavit on a high court petition filed by Susheel Kumar's mother. In his affidavit, he wrote:
"The petitioner's ward Mr N Susheel Kumar, PhD student in the Centre for ALTS posted certain objectionable message on his Facebook page commenting on the protest undertaken by students belonging to ASA pursuant to hanging of Yakub Memon".
A Change.org petition demanding that the expulsion of the Dalit students be revoked says:
"Pandu Reddy who filed the affidavit in the court concluded that the scuffle between both students was a consequence of Protest against capital punishment whereas the matter of fact is, it was related to the protest movie screening of 'Muzaffarnagar baaqi hai'. The proctorial board did not state Yakub Memon anywhere in the report. However, for the reasons best known to him, he has sensationalized and manipulated the case by linking the issue with the hanging of Yakub Memon."
There were also other attempts to discredit Vemula. Many BJP supporters on Twitter claimed that Vemula wasn't a Dalit.
An NDTV journalist, however, put all speculation to rest when he tweeted Vemula's birth certificate - which clarifies that the deceased scholar hailed from the Mala community, a Scheduled Caste.
For all those saying #Rohith was not a #Dalit, this is a govt-issued certificate that says he was SC (Mala) pic.twitter.com/XI8RTDXvJ5

- Uma Sudhir (@umasudhir) January 19, 2016
The argument that the BJP is using to defend Vemula's expulsion is rather problematic. How does having a certain view on capital punishment and posting about it on Facebook make for a fit case for expulsion? Doesn't this mean that politicians expressing extreme opinions must be either asked to step down or put behind bars?