Somi Das
| Updated on: 20 August 2015, 20:08 IST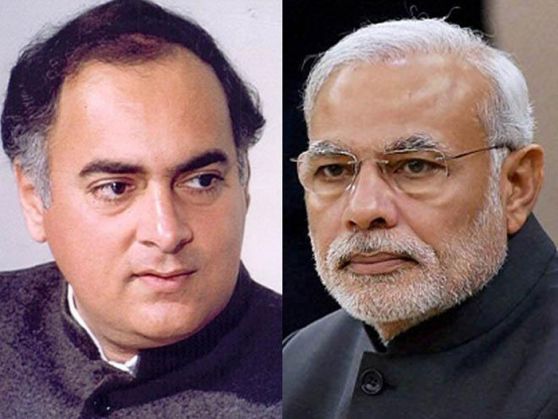 The first tweet that Congress vice-president Rahul Gandhi put out today in memory of his father was this: "I also remember today the most imp lesson my father taught me-that there is much more strength in tolerance, love & compassion than in hatred."
Rahul Gandhi remembers his father as the picture of tolerance on his 71st birth anniversary, something that he has often accused Prime Minister Narendra Modi of not being. So we feel tempted to point out some striking similarities between Narendra Modi and his father, even though they come from different socio-political backgrounds.
1. Both got a clear mandate
Since the JP movement that brought forth an array of powerful political leaders from the Hindi heartland, coalition governments have become the norm. However, in the last 30 years, only twice has any leader got a clear mandate from the electorate. In 1984, the Rajiv Gandhi-led Congress made history by winning 415 seats in Parliament. And in 2014, the Narendra Modi-led NDA won 334 seats, with the BJP alone winning a comfortable 282 seats.
2. Both were accused of failing to stop communal riots
Narendra Modi's political journey since the post-Godhra riots in 2002 has always been haunted by the question of whether he did enough to stop the riots in Gujarat that killed over 1,000 people, mostly Muslims. While the Supreme Court gave him a clean chit in nine cases related to the riots in 2014, his critics still use the riots to target him.
Rajiv Gandhi too is accused of looking the other way when angry mobs allegedly led by Congress leaders killed at least 3,000 Sikhs during the anti-Sikh riots of 1984. In fact, Rajiv Gandhi rewarded leaders like Sajjan Kumar and Jagdish Tytler who allegedly played pivotal roles in the anti-Sikh programmes with better positions in the party. In a shocking statement during the riots he had said: "When a big tree falls, the earth shakes."
3. Their sudden ascent to power was preceded by crisis and uncertainty
Rajiv Gandhi was sworn in as Prime Minister on 31 October 1984, after his mother, the then prime minister, Indira Gandhi, was assassinated. Narendra Modi was brought in as the chief minister of Gujarat in 2001 when Keshubhai Patel was battling with the aftermath of the Bhuj earthquake and corruption charges and the BJP was losing ground in the state.
4. Both understand / understood the importance of technology
From the use of social media to holograms of himself for addressing multiple elections rallies, Narendra Modi's election campaign was a textbook case on how to use technology to reach voters. Rajeev Gandhi too was ahead of his times in gauging the importance of technology. He ushered in the technology revolution in India, set up the National Informatics Centre and eased norms to import computers. He hired the best global names available to make telephone connections quicker and cheaper. His main contribution to the development of India is the telecom revolution.
5. Both have / had good sartorial sense
Rajiv Gandhi made Kashmiri shawls popular and was known for a distinct style of dressing. Modi with his colourful turbans and vibrant kurtas has emerged as a style icon.
6. Both are / were great at grandstanding and using the media
Remember how a hastily put together Assam Accord was announced with fanfare from the Red Fort on Independence Day, 1985? Compare that with the Naga Accord the Prime Minister announced this year after creating sudden suspense about it. The contours of the agreement are yet to emerge in public domain. Both understood the art of using events and platforms to create an atmosphere of positivity and hype.
A master speaker, Modi has used Doordarshan and AIR to air his speeches and communicate with the country. Similarly, Rajiv Gandhi's tours in rural India and his speeches were recorded and played on prime time.
7. Both run / ran a top-heavy government
Modi began his prime ministerial journey with the leanest cabinet in Indian history, and merged several ministries. Key decisions are taken by Modi, BJP president Amit Shah and finance minister Arun Jaitley. Rajiv Gandhi was known for taking key decisions in consultation with his cousin and chief advisor Arun Nehru, and one of his close aides, Arun Singh.
8. Both cracked down on dissent
While the Modi government has proactively blacklisted several NGOs and stopped NGO representatives from deposing before foreign governments, Rajiv Gandhi was the force behind the anti-defection law aimed at reining in turncoats amid opposition walkouts. And how can one forget his failed attempt at cracking down on the media by bringing in the defamation bill? With his credibility reaching a low after the negative press he received due to the Bofors scandal, in 1988 the Rajiv Gandhi government tried to gag the press by bringing in the defamation bill. But owing to widespread protests, he had to withdraw it.