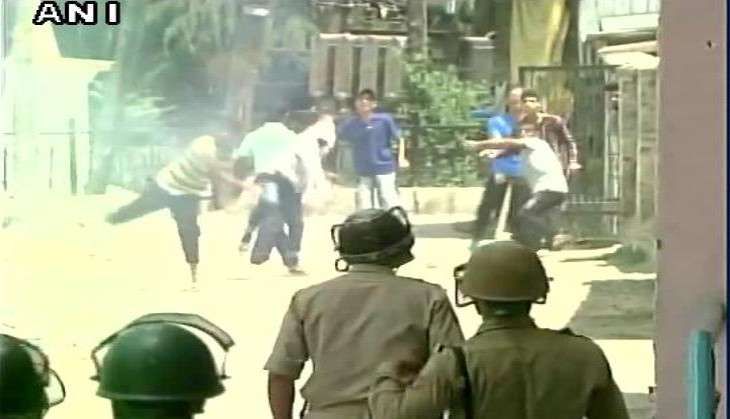 Eight people were reportedly killed and over 90 people including police personnel were injured in clashes in Kashmir between security forces and a violent mob in Jammu and Kashmir on 9 July.
According to a PTI report, the mob also set ablaze five buildings including three police installations and some vehicles to protest the killing of Hizbul Mujahideen poster boy Burhan Wani in an encounter.
The report added that a 25-year-old youth, Amir Bashir, was hit by a bullet allegedly fired by security forces on protestors in Verinag area of Anantnag district in south Kashmir.
Another youth was reportedly killed in similar circumstances in Qaimoh area late last night. Zubair Ahmad had multiple bullet injuries in his chest, a doctor at the Anantnag district hospital said on condition of anonymity.
A 16-year-old youth identified as Saqib Manzoor was declared "brought dead" by doctors at SMHS hospital where he was taken by some people with critical injuries sustained due to use of firearms, a police official said.
Besides these three deaths, there were unconfirmed reports that a youth drowned in a river at Ganeshpora as security forces chased a group of protestors, PTI reported.
Police said over 30 other youth were injured in action by the security forces against the violent mobs at several places across the valley. Two government offices were also set on fire by protestors in Tral town of Pulwama district as well while three buses were also set on fire at Qazigund.
Clashes have erupted in various areas of the state with the internet service and rail services being suspended as precautionary measures. Curfew has been imposed in various parts of the state. Despite the curfew being imposed in several parts of Jammu and Kashmir, large number of people turned up to attend the funeral of Hizbul Mujahideen commander Burhan Wani in Tral.
Burhan Wani and 2 other terrorists were killed by security forces in an encounter in Jammu and Kashmir on 8 July.
--With PTI inputs