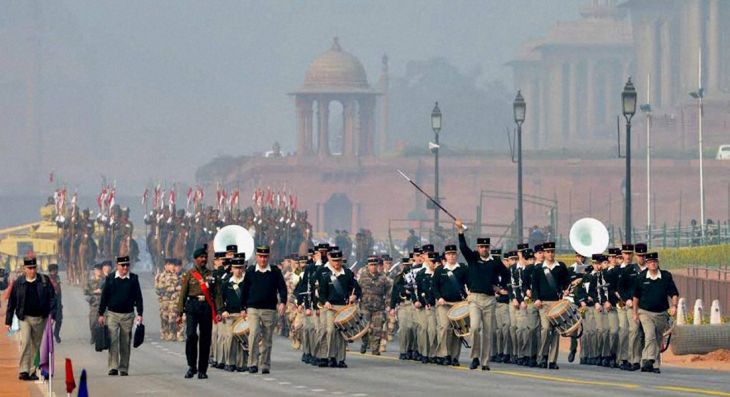 France President Francois Hollande was the chief guest at the 67th Republic Day celebrations - the fifth time that a French head of state has been given the honour.
With a number of firsts, here's what made this year's parade the most special one yet:
1. For the first time ever, a foreign army contingent comprising 123 French soldiers marched down Rajpath along with Indian troops. The contingent will march in two parts - a 56-member strong French Air Force Military Band and an 80-member strong French Army contingent.
2. An all-woman team from the CRPF replaced the traditional all-male contingent at the parade this year - another first.
Also Read:
Stunts, bikes & serious adrenaline: these women are changing the face of Republic Day
3. The celebrations were a crisp 90-minutes long - cut down from the usual 115 minutes.
4. At least 27 aircraft of the Indian Air Force (IAF) flew over the Rajpath during the parade. The spectacle also included formations by aircrafts including C-130J Super Hercules, C-17s, Su-30 MKI, Jaguars, and MiG-29 upgrade aircrafts.
5. The parade also featured stunts by the Army officers on motorbikes.
6. After 26 long years, a canine crack team - comprising 36 of the Army's thoroughbred Labradors and German Shepherds - also marched down Rajpath.
7. The parade saw a total of 23 tableaux. The tableaux featured a statue of BR Ambedkar, a replica of the Gir forest, and initiatives like 'Swachh Bharat' and 'Digital India' - besides 17 tableaux representing the 29 states.
On the technical front, a specialised Wireless Integrated Public Address (WIPA) system was set up around New Delhi - including at 31 crowded places and 13 metro stations.
The VVIP enclosure at Rajpath was covered with motorised glass - a lesson learned from last year's celebrations - which saw US President Barack Obama and First Lady Michelle Obama were soaked in the surprise rain that interrupted the ceremony.
- With PTI inputs