Somi Das
| Updated on: 13 February 2017, 5:22 IST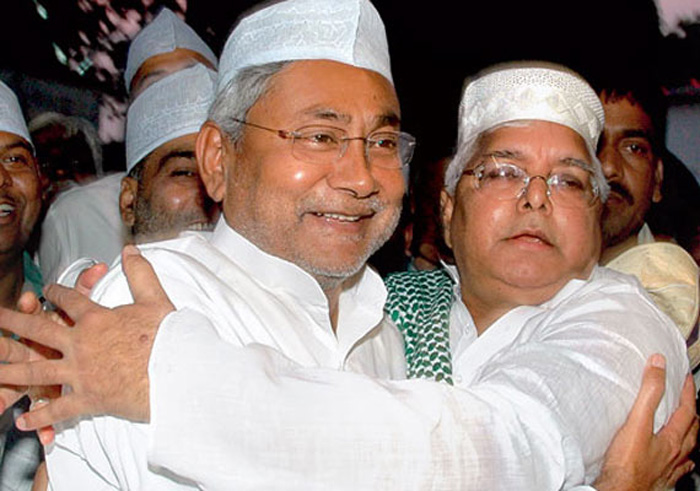 The fought, they kissed and they made up. Many termed their alliance as "marriage of convenience". But that marriage has certainly paid off. At the personal level, their relationship goes a long way. Read about their incredible journey and their complicated relationship.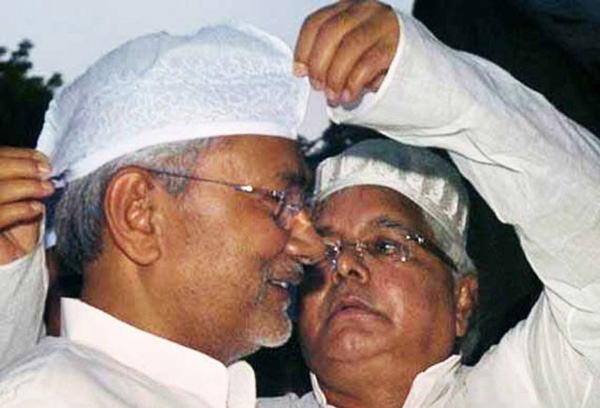 Here's their intriguing story summed up in five fundamental questions.
1)Why are Lalu and Nitish called friends-turned-foes-turned friends?
Both Nitish Kumar and Lalu Prasad Yadav are the products of the Jai Prakash Narayan movement that rocked India in the 1970s and had its epicentre in Bihar.
Under the tutelage of JP, who spearheaded anti-corruption movement against Indira Gandhi, the duo carved their own political careers.
Both became part of Janata Dal under the national leadership of VP Singh. They based their politics on socialism and renewed caste calculation, aiming to end the dominance of upper caste Hindus and bringing the likes of Yadavs and Kurmis into political importance.
Seizing power from Congress, Lalu became the chief minister of Bihar in 1990. Nitish, an influential Kurmi leader and a union minister in the VP Singh government at that time, was his loyal comrade.
Sankarshan Thakur writes in his book, The Single Man, "For thirty years, perhaps a little more, Nitish drifted in Lalu's shadow."
2.So why did they part their ways?
With Lalu's ascent to power, came a new wave of political changes and distribution of political largesse. Yadav's became the most influential caste bagging all major money-making jobs.
Lalu's brothers-in-law Sadhu and Subhash have been accused of unleashing what is known as "jungle raj". This created a certain disgruntlement among the non-Yadav backward classes. However, the real fissure in their relation came with the implementation of the Mandal Commission recommendation by Bihar in 1992.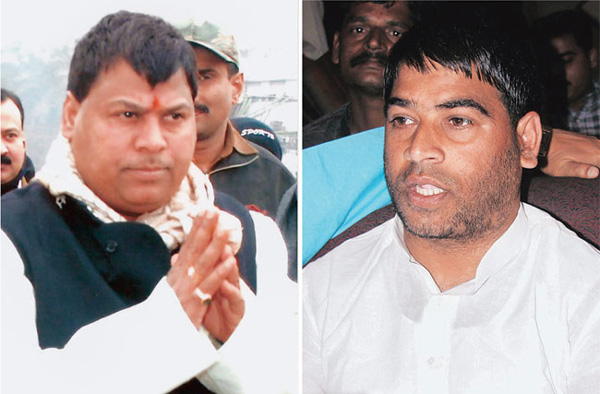 Thakur writes in his book: "When job reservation based on the Mandal Commission's writ was endorsed by the Supreme Court in 1992, Laloo moved swiftly to implement it. But non-Yadavs in the coalition were almost immediately alerted to a catch in the clause: Yadavs, as the most populous, would get to skim the cream, the rest would have to scrape the bottom. Nitish protested."
4.What did Nitish do to counter his powerful mentor Lalu?
Nitish Kumar led a successful rebellion within the Janata Dal with the backing of non-Yadav backward castes (dominated by Kurmis and Koeris).
After frequent ugly spats, he officially broke ranks with Lalu in 1994 at Chetna Rally in Gandhi Maidan, where thousands of non-Yadavs had gathered to listen to Nitish.
He formed the Samata party with George Fernandes and with BJP's support, he fought Lalu's political writ tooth and nail.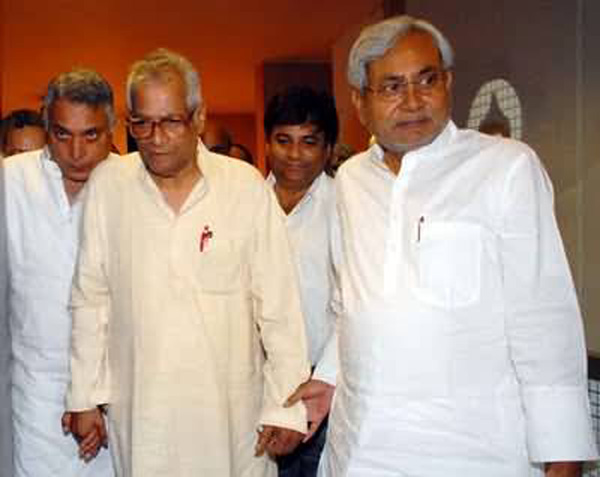 In an interview to rediff.com in 1997, he questioned Lalu's status as the indisputable mass leader of Bihar: "Mass leader indeed! Remember how he boasted in the last elections that he would put us (the Samata Party and the BJP) out of business? But look what happened! Together we won 50 per cent of the parliamentary seats in Bihar. The day is not far away when Lalu will lose whatever support he has."
With Lalu's name cropping up in the multi-crore fodder scam, Nitish's position was consolidated further.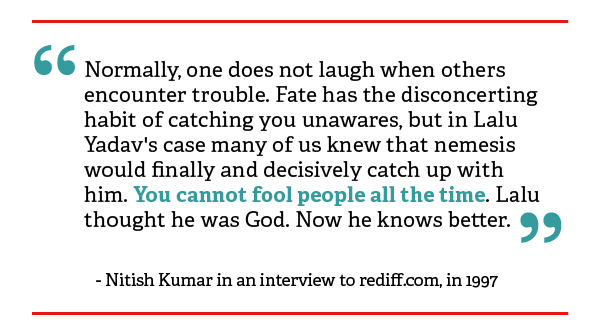 On the other hand, following a national debacle, Lalu left Janata Dal and formed RJ(D). Janata Dal's Sharad Yadav faction and Ram Vilas Paswan's Lok Jansakti Party merged with Samata Party and Janata Dal (United) came into existence.
Eventually in 2005, Nitish, backed by NDA, decimated Lalu. He proved to be a very popular chief minister and came to be known as "Sushashan purush", representing a departure from Lalu's famed "jungle raj".
5.Why are they back together?
Lalu has always bragged about his government arresting L K Advani (who was on his rath yatra to Ayodya) in Samastipur in 1992 as proof of his secular credentials.
As his Number One political rival, Lalu always tried to corner Nitish on the ground that he had tied up with the "communal" BJP.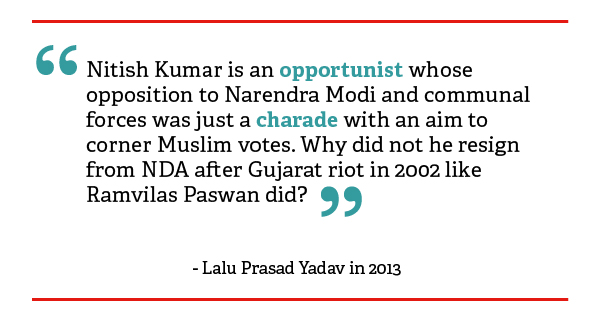 However, such comments never hurt the very amicable alliance between JD(U) and BJP, which was voted to power not once but twice by the people of Bihar.
But when BJP declared Narendra Modi as the PM candidate in 2014, the alliance ended.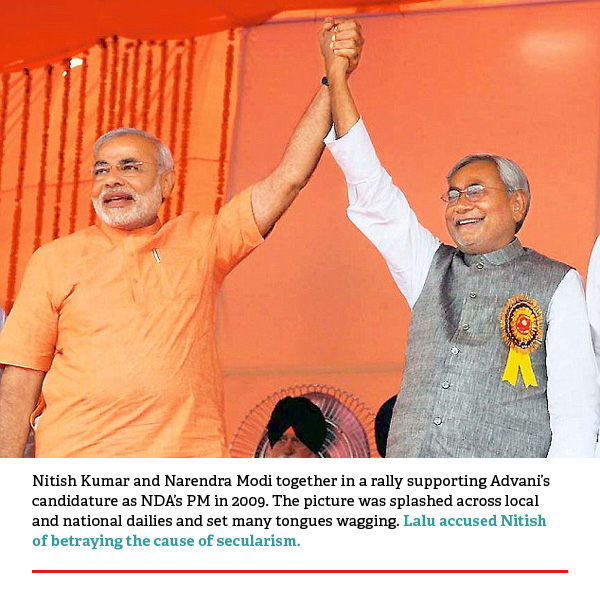 The old friends are back and 'together' they to want to stop "communal forces" from taking over in Bihar. However, it was not an easy task to bring about their union. Lalu still harboured political ambitions. But given that fodder scam still continues to haunt him and he is out on bail, he had to settle for Nitish as the chief ministerial candidate.
What does this tell us about politics?
In politics, there are no permanent friends or enemies. Only victory and defeats matter.