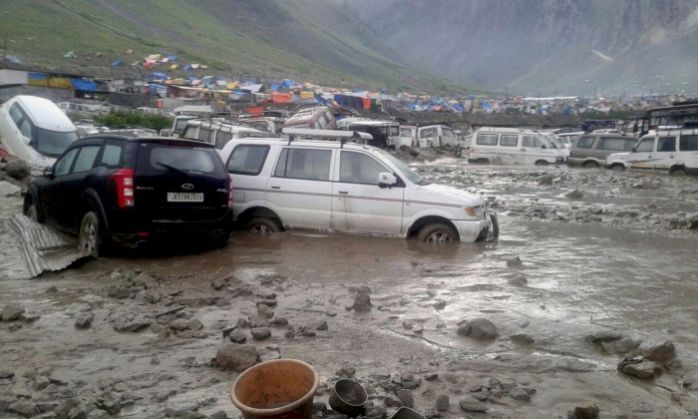 A disastrous cloudburst on the Amarnath route in Jammu has left three people from Rajasthan dead, including two children. Nine people have been injured in the calamity and seven have been reported missing.
The cloudburst occurred 90-km north of the capital city of Srinagar in Baltal. Pilgrims on the road to Amarnath are being evacuated by the authorities. This route is reportedly the shortest way to reach the cave. A 14-km ardous trek, it was directly affected in three places on the route between Baltar Gate and Rangamor.
The Indian army is conducting the rescue operations and have brought 1500 pilgrims and more than 750 civilians to shelters.
The names of the missing people that have been reported are: Maiser Ahmed, Anil Sahu, Ashaq Sahid Mir, Reyaz Ahmed, Mushtaq Ahmed, Ramdevi and Fayaz Ahmed Mir. Barring two, the rest were locals.
After the cloudburst, roads have been affected by massive landslides and 12 commercial establishments have reportedly been washed away.Engineers and army officials are currently inspecting the area to launch a more cohesive rescue operation.
The surge in cloudbursts in the valley this year have been due to the topography of the mountainous region, which acts as an obstruction to the rain-laden clouds. July itself has seen multiple cloudbursts , which is expected to continue till September, say experts.
Source: The Hindustan Times