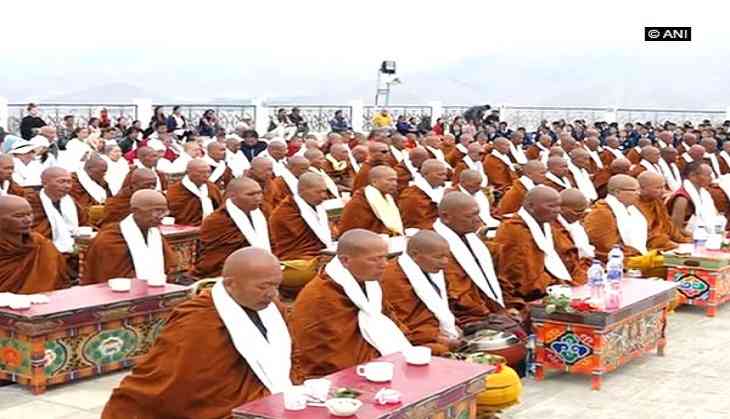 As many as 185 monks and nuns from Thailand reached Mahabodhi campus in Shey village on June 26 after completing a month-long 'Pad Yatra' (peace march), to spread the message of peace, love and communal harmony.
They walked barefoot from Bodh Gaya via Dharamsala, where the Sangha members had an audience with His Holiness The Dalai Lama before they undertook the yatra towards Ladakh.
The yatra was led by lord Abbot of Royal Thai Temple, Singburi province in Thailand Phrateppariyattisuthi Thongsuk and is being organized in association with Mahabodhi International Meditation Centre (MIMC) Leh Ladakh.
As the Pad Yatra reached Mahabodhi Campus, a grand traditional reception was arranged by the people of Ladakh in honor of the Sangha members who successfully completed the Pad Yatra from Bodh Gaya to Ladakh for world peace.
This is the third consecutive year the 'Pad Yatra' is taking place. Started in 2016, every year the yatra commenced after offering prayers at the holy shrine of the sacred Bodhgaya Temple. The team then proceeded towards Dharamsala to receive blessings of His Holiness the 14th Dalai Lama before embarking on the Pad Yatra towards Ladakh.
"Besides sending a strong message for world peace, this historic 'Pad Yatra', has also strengthened the spiritual and cultural relationship between the people of Ladakh and Thailand, and diplomatic relations between the two great nations, India and Thailand," founder-president MIMC Bhikkhu Sanghasena said.
Sanghasena informed that one of the main objectives of MIMC has been to promote Ladakh as a spiritual and tourist destination among the South East Asian countries and as a result of the historic Padh Yatra and the series of International Festival of Buddhist Heritage of Ladakh, number of tourists to Ladakh from Thailand has been increasing every year.
On Wednesday, monks, nuns and laypersons from Thailand went on a peace Pad Yatra from LehPetrol Chowk to Leh Shanti Stupa.
(ANI)