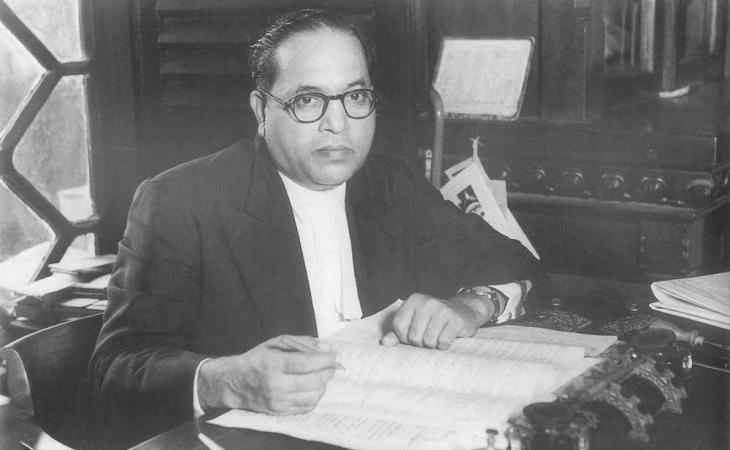 You know him as the Indian jurist and the messiah of the Dalit community, who fought against social discrimination. You know Dr Bhimrao Ramji Ambedkar, fondly known as Babasaheb, helped draft the Indian Constitution. But did you know Ambedkar was in fact, not his real name? Did you know that his autobiography, Waiting for a Visa is used as a text book in the Columbia  University? 
On the eve of Babasaheb's 125th birth anniversary, here's a look at some of the lesser known facts about the iconic leader:
1) Bhimrao was the 14th and the youngest child of Ramji Maloji Sakpal, who served in the British Indian Army at the Mhow cantonment - now known as Dr Ambedkar Nagar. He belonged to the Mahar caste, who were treated as untouchables and were subjected to socio-economic bigotry. His ancestors had worked for the army of the British East India Company for years.
2) Babasaheb's last name was in fact, Ambavadekar. His Brahmin school teacher, Mahadev Ambedkar, who loved him dearly, changed his last name to his own. 
3) Since he belonged to a family of "untouchables", as a student, Babasaheb was not allowed to sit in the classroom with students from the higher castes. When he wanted a drink of water, a person from a higher caste would pour water for him from a distance as he was not allowed to either touch the water or the vessel - a grim reality for some members of the community even today. The task of pouring out water in this manner for the lower-caste students was mainly assigned to a peon. However, if the peon was not present, Babasaheb and other students from his caste were forced to remain thirsty. 
4) Despite facing social-discrimination as a child, Babasaheb was awarded a scholarship and sent to America to pursue his higher education. He also held the position of the principal of the Government Law College, Mumbai for two years.
5) The Reserve Bank of India (RBI) was conceptualised under the guidelines, working style and outlook presented by Dr Ambedkar in front of the Hilton Young Commission.
6) His first wife Ramabai died of an acute illness. He later married a Brahmin medical practitioner, Savitha.
7) While drafting the Indian constitution, Babasaheb had proposed that Sanskrit be deemed the national language. However, he faced opposition from the other members in this regard. 
8) Apart from launching various movements against untouchability and demanding rights for Dalits, Babasaheb also led a public demonstration in Maharashtra's Mahad district - where members of the lower caste were not allowed to draw water from the main water tank. He publicly burnt the copies of the Manusmriti. Every year, on 25 December, followers of Babasaheb's philosophy celebrate Manusmriti Dahan Diwas.
9) He was absolutely against Article 370, which granted a special status to the state of Jammu and Kashmir.  He was quoted as saying, "You wish India should protect your borders, she should build roads in your area, she should supply you food grains, and Kashmir should get equal status as India. But Government of India should have only limited powers and Indian people should have no rights in Kashmir. To give consent to this proposal, would be a treacherous thing against the interests of India and I, as the Law Minister of India, will never do it."
10) Less than two months before he died, Babasaheb converted into Buddhism - along with some 3,65,000 of his followers in Nagpur. He died peacefully in his sleep on 6 December 1956 at his home in Delhi. He was cremated according to the Buddhist rituals which were attended by half a million people.