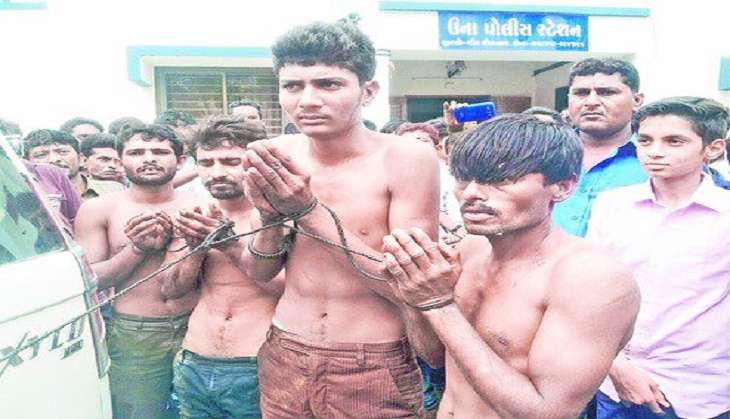 Gujarat, amongst the most developed states in India, is witness to a thousand Dalits being victimised each year. On an average 20 are murdered and 45 Dalit women are raped every year.
This claim has been made by Dalit social activist Kirti Rathore on the basis of figures since the last 10 years - 2006 to 2015 - obtained via a response to an RTI query. Kirti says the crimes and atrocities committed against Dalits are not decreasing as the laws to quell them are not being implemented strictly in the state.
The Gujarat government has neither issued any letter nor made rules or regulations to implement the SC/ST (Prevention of Atrocities) Amendment Act-2015.
In the analytical report titled 'The horrifying reality of victimisation of Dalits in progressive Gujarat and the lax implementation of the Atrocities Act', Kirti claims that in the last 10 years, 202 Dalits have been murdered while 572 have been attacked. 453 women have been raped and 74 have been wounded by fire. 9504 Dalits have filed cases under the IPC and other sections while 34 cases have been filed under PCR Act.
In 10 years, 10,839 cases have been registered. This shows that every year, 1,083 Dalits are victimised in the state. 1,257 cases are pending for over three years in Gujarat. The number of cases pending for over 10 years has reached the figure of 522. Cases pending for more than a year are 1140.
Banaskantha, Junagadh most sensitive
Going by the report, 1,133 cases of atrocities on Dalits are registered in the district of Banaskantha which makes it the most sensitive district while 830 cases are registered in Junagadh. In the last 10 years, 756 people have been tyrannised in Sundernagar; while 693 people, have suffered the same in Ahmedabad. The fifth rank is of district Mehsana where 658 Dalits have been victimised.
CM has not called a meeting
Kirti Rathore said that under the SC/ST Atrocities (Prevention) Act 1989 and rule 1995 section -16, there should be a meeting every six months under the chairmanship of the minister of state of 'Vigilance and Monitoring Committee' at the state level.
Ever since Anandiben has taken charge of the state as CM, there has not been a single meeting for the last two years, said Rathore. The last meeting was held when current Prime Minister Narendra Modi was the minister of state. From 2001 to 2016, only six meetings have been held.
In the years 2001,2002,2003, 2005,2007, 2009 and 2011, not even one meeting was held.
Gujarat backward in receiving justice
Gujarat falls way behind its neighbours Rajasthan and MP where getting justice for Dalits and the implementation of the Atrocities Act is concerned.
In the report, it has been claimed that from April to September in 2015, 306 cases were disposed off in Gujarat, of which only in 12 cases punishment has been meted out. This works out to merely 3.92% of matters registered in the SC and 2.10% punished