On 11 December 2013, the Supreme Court quashed the hopes of the LGBT community in India, when it ruled that homosexuality would retain its tag as a criminal offence.
The Section 377 of the Indian Penal Code - which came into force in 1862 - defines unnatural offences as: "Whoever voluntarily has carnal inter­course against the order of nature with any man, woman or animal, shall be punished with imprisonment for life, or with imprisonment of either description for a term which may extend to 10 years, and shall also be liable to fine."
In order to mark two years of being in power, the Prime Minister Narendra Modi-led government, is highlighting a number of schemes and development programmes that the government claims, has benefited a variety of sections of society. However, one particular community seems to have been left behind in the race to develop the country.
The Modi government's "Sabka Saath Sabka vikas" motto does not seem to take into consideration India's LGBT community - said to constitute approximately 7% of the Indian population - who live in fear of prosecution.
Photo: PTI
The Prime Minister's stance on the LGBT movement has always been unclear. Here's a look at the instances when the Modi government let the LGBT community down.
1. Refusal to discuss LGBT rights
Despite being rather vocal about a number of topics, the leader of the world's largest democracy has never really addressed the controversial matter in public. Section 377 and LGBT rights did not even find a mention in the BJP's manifesto before the Lok Sabha polls 2014, despite it being a burning topic at the time. While Congress leaders made it a point to express disappointment with the Supreme Court verdict to uphold Section 377 - and have been making some pro-LGBT comments of late - the BJP leaders chose to stay mum on the issue.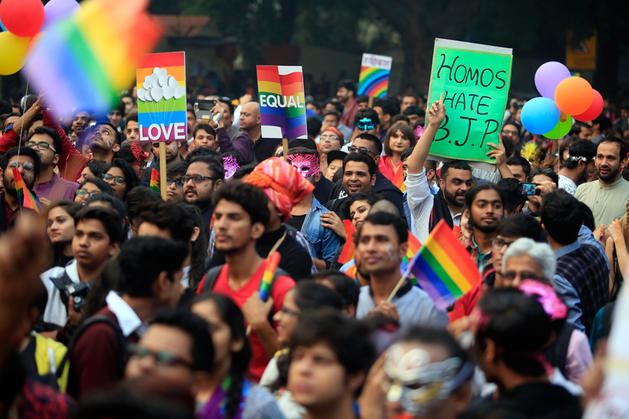 Photo: Vikas Kumar, Catch News
2. Failure to repeal Section 377
In its December 2013 ruling, the Supreme Court said that the onus to delete Section 377 from the IPC lay on the legislature. However, the Parliament refused to even put a Bill forward to address the issue. When senior Congress leader Shashi Tharoor attempted to introduce a private member's bill that sought to decriminalise gay sex, in the Lok Sabha, fellow parliamentarians were heard laughing and cracking jokes.
3. No action against sexual violence against transgenders
When the NDA swept to victory in the 2014 Lok Sabha polls, PM Modi said he would take special measures to protect women from violence and abuse. However, cases of rapes, violence and abuse among transgenders have been ignored.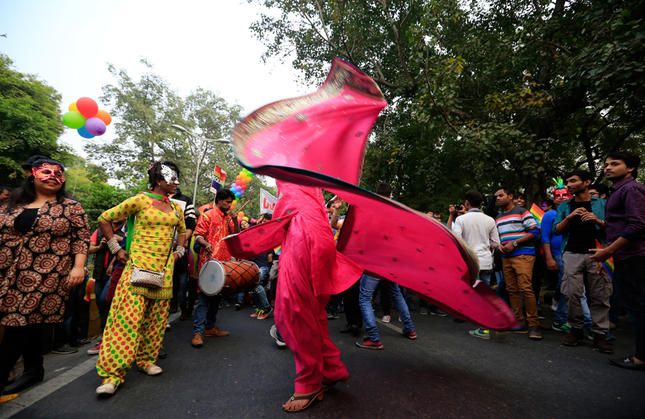 Photo: Vikas Kumar, Catch News
Currently, India has no concrete statistics for transgenders as victims of sexual violence.
4. Failure to check hateful comments from senior leaders
While the Prime Minister has not touched upon the issue of LGBT rights at all, he seems to be taking no efforts to stop his ministers from making hateful comments about the LGBT community.
Home Minster Rajnath Singh was quoted as saying, "Gay sex is not natural and we cannot support something which is unnatural." BJP leader Subramanian Swamy had said: "The issue is not about respect. We respect handicapped persons. Homos are genetically handicapped... You need to go to a hospital. Being gay is a mental disorder." His BJP colleague, yoga guru Baba Ramdev said, "Homosexuality is a disease, yoga can cure it."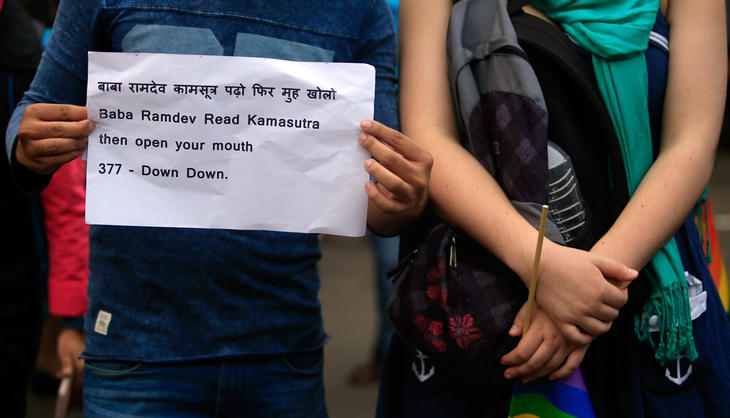 Photo: Vikas Kumar, Catch News
In March 2016, the BJP's ideological parent, the Rashtriya Swayamsevak Sang (RSS) said that while homosexuality was not a crime, it could be "solved with psychological treatment". RSS had made it clear that it will not settle on "moral values, social system and traditions in the name of individual freedom" when it comes to issues like "live-in relationships" and "homosexuality".
While countries all around the world - including neighbouring Nepal - are taking a liberal stand and legalising gay marriages, India's LGBT community continues to fight for their basic rights. Why is the Modi government silent on this pressing matter? Will the Modi government ring in their three-year anniversary with yet another dismal report in terms of progress on the issue of LGBT rights?