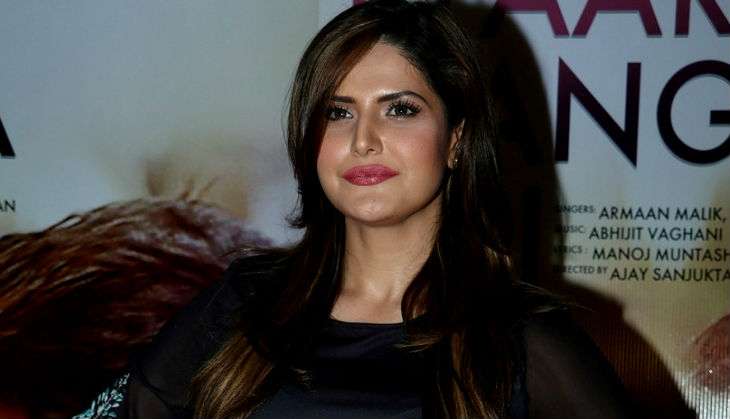 After wooing the Box Office with her 2015 hit, Hate Story 3, Zareen Khan is back to regale viewers with her first-ever music video.
Zareen and Ali Fazal have come together to star in a recreated version of Kishore Kumar's classic hit, Pyar Manga Hai, from College Girl (1978) - the latest revisited classic from T-Series.
Armaan Malik and Neeti Mohan have lent their voices to the revamped song, which has been composed by Abhijit Vaghani.
In a recent interaction, Zareen got candid about the the Pyar Manga Hai video. She also spoke at length about her upcoming projects and the roles she would like to essay.
The video has a number of intimate scenes. Was it awkward to shoot these?
When you see the video from the perspective of the audience, it will appear very different. But when you're shooting on set, there's a lot going on. There are so many people looking at you.
It's all mechanical, you know. We get references that it has to look a certain way. We have to shoot bearing camera angles in mind so it's very technical and mechanical.
What motivated you to accept this song?
The reason is that the last movie I did with T-Series, Hate Story 3, did really well. T- Series is like my home and the song is really nice.
But don't you feel you're getting typecast as a seductress?
I did not know that you can get typecast after a film and a song. See, I don't know about getting typecast but it's not like what is taking place here is not happening in films. I do have other genres of films being offered to me which I am shooting for.
Which films have you bagged after the success of Hate Story 3?
Currently, I am shooting for Aksar 2. We have already shot the film for 10 days. Towards the end of this month, I'll start shooting for Vikram Bhatt's 1921. Also, I have another movie which is not confirmed so I don't want to talk about it as yet.
Do you have a dream project?
I don't have a dream project, because I never dreamed of becoming an actress. But I would want to do a hardcore romantic film. And I'd really like to do a biopic on Marilyn Monroe.
Do you have an idol?
Priyanka Chopra! She came from nowhere and see where she has reached! It's really admirable.
What would you like to do in your leisure time?
I would like to learn to fly an aircraft. I'd also like to learn to play musical instruments like the guitar and the piano. Hopefully, one day, I will also sing.
-- Sourced from Namrata Shivdasani, Bollywood News Service