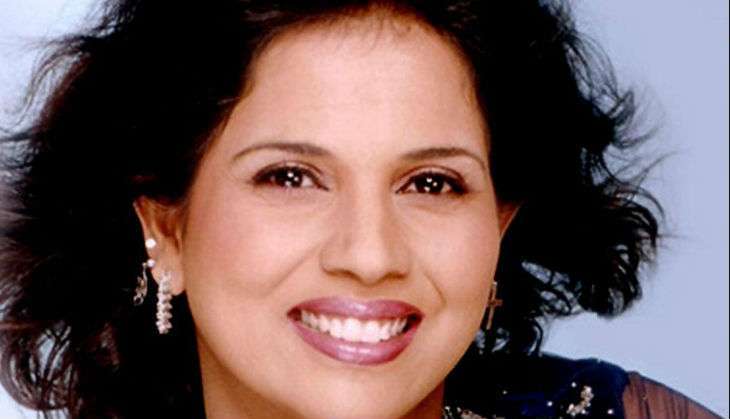 Blessed with a powerhouse voice, playback singer Hema Sardesai has had an illustrious career studded with hits such as 'Aawara bhanwre' (Sapnay) and 'Badal pe paon' (Chak De India). The amiable singer is also now invested with social work and has been exploring the digital world to promote her latest musical creations.
Here she is talking about her new ventures and her memorable journey in Bollywood so far. Excerpts:
Tell us about your new song 'Bappa Morya'!
'Bappa Morya' is devotional music with a lounge-like, peaceful feel - it has Indian chants with western instruments. I have composed this track myself. Six more tracks will be released with differently designed music for the divine ... I am hoping to bring more of the youth towards spirituality.
How were you approached for this song?
I have been the best selling artist of artistaloud.com, and it is now an app. They are releasing these new songs of mine.
You are known to be an emotional person. Tell us what you experience when you sing a devotional song.
Every time I have sung for the divine, people in the audience have commented that the sincerity and devotion in the song takes their mind straight to the divine; and that they feel a divine presence around them. I guess the plus point of being emotional is that my devotion comes from my soul and probably reaches the divine and every heart that hears it. I just love singing for the divine.
Ajay Devgn is featuring in a song about Lord Ganesh too. Comment.
It's great to see known people take cognisance of the festival and participate in it with their own various contributions.
You have been singing professionally for 20 years. How do you look back on your Bollywood journey so far?
'Aawaara Bhanwre' was released in the late '90s and it was on the No 1 position in countdowns for more than 14 weeks. Recently, I gathered that I have rendered more than 100 playback songs in Bollywood, and yet I feel like I have just started singing. It has been a journey of euphorias, excitements, ecstasies, ups and downs too ... but there is nothing that I regret. I walked tall throughout; keeping the respect of womanhood always at the highest. I have humbly proved that women can make it big in the glamour industry with sheer merit. After 'Baadal pe paon hai,' my hit song from Chak De India, I took a break of several years ago to give back extensively to the society which has given me so much of love.
Despite moving away a little from the industry, everyone I meet still says that I look always content and happy. I am grateful to all the respectable people I have worked with and above all I am grateful to God. When an artist is genuine, his/her songs remain in the hearts of their fans forever.
You are associated with peppy numbers like 'Apun bola tu meri Laila' and 'Ishq chaandi hai'. Which kind of songs do you prefer to sing?
I have also loved my rendition of 'Kitne kisse hain' in Astitva and my semi- classical songs in my solo albums like 'Jhoom' etc. but yes I do love singing bubbly, peppy songs! My fans have very kindly said that these kinds of songs go well with my personality. They also contribute to my energy on stage. At the end of every event, it is gratifying to hear compliments like 'Bulund hoke bhi kitni pyaari awaaz hai.'
Hema Sardesai Selects Her 10 Favourites From Her Oeuvre
1. Badal pe paon hai - Chak De India
2. Tere sang ek simple si coffee - Zameen
3. Chali chali phir chali - Baghban
4. Eli re eli - Yaadein
5. Apun bola - Josh
6. Ishq chandi hai - Biwi No 1
7. Jungle hai aadhi raat hai - Biwi No 1
8. Jaanam samjha karo - Jaanam Samjha Karo
9. Mein kudi anjaani ho - Zor
10. Awaara bhanwre - Sapnay