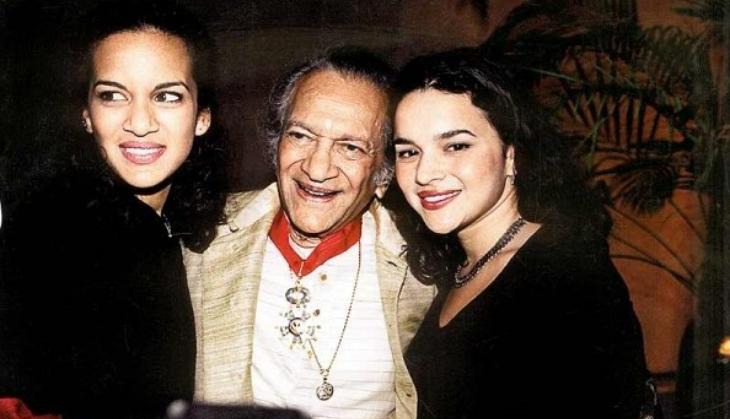 The 'Godfather of world music' Pandit Ravi Shankar would have turned 96 today. Acknowledged as the man who introduced The Beatles to Indian Classical music, and revered for his ability to hold people spellbound when he performed, Pandit Ravi Shankar's contribution to Indian music is undeniable.
An extraordinary sitarist and performer, he is survived by his wife Sukankya Shankar, his daughters Anoushka Shankar, Norah Jones and two other children from his first marriage.
Here are some interesting trivia about the maestro:
1) Born Robindro Shaunkor Chowdhury on 7 April, 1920, in Varanasi, Pandit Ravi Shankar was raised by his mother after his father, a wealthy landlord left his family to practice law first in Kolkata and then in London. He was the youngest of his five siblings. The first time he met his father, he was eight years old.
2) His career 'began' at age 10 - as a dancer - when he joined his elder brother's troupe in Paris. But that didn't last long and young Pandit Ravi Shankar moved back to India to begin his apprenticeship under sitar maestro Ustad Allahuddin Khan.
3) He was already making waves as a sitarist extraordinaire when George Harrison, the lead guitarist met him. The year was 1966. They had released the album, Rubber Soul, the previous year and were now on a much publicised world tour. While Harrison and Shankar became friends, the frenzy of the drug-fuelled fandom that came along with The Beatles, left Shankar disgusted. When he spoke of that time, Shankar said:
"All four (The Beatles) came. All of them were very sweet but George was so special. He would corner me and ask me about the relation between spirituality and music, religion and music.
He met me a few times and then I started teaching him. And that news spread all over. That did help me. When people say that George Harrison made me famous, that is true in a way.
Then what happened was that I became a pop star all of a sudden. All young people, bearded, long hair, wearing beads and not normal. They would behave like Naga sanyasis if they were permitted. And I was not happy at all. I would tell George, 'What have you done?"
4) Pandit Ravi Shankar collaborated with George Harrison for two concerts for the Bangladesh Benefit Performance in 1971. He produced Shankar's album Chants of India (1997) and had co-produced a four-CD album for Ravi Shankar's 75th birthday.
5) With all the attention, came the affairs. His first marriage was to his guru Allauddin's daughter Annapurna Devi, with whom he had two children. But the marriage didn't last long and he next lost his heart to danseuse Kamala Shashtri. But while he was still in a relationship with Kamala, he started dating Sue Jones, his concert producer. They had a child together - celebrated jazz singer and pianist, Norah Jones. He was still in a relationship with both Kamala and Sue, when Sukanya - a musician in his troupe - caught his eye. The two had a daughter, Anoushka Shankar, who is now a famous sitarist in her own right. They got married when Anoushka was eight, and stayed so till his death in 2012.