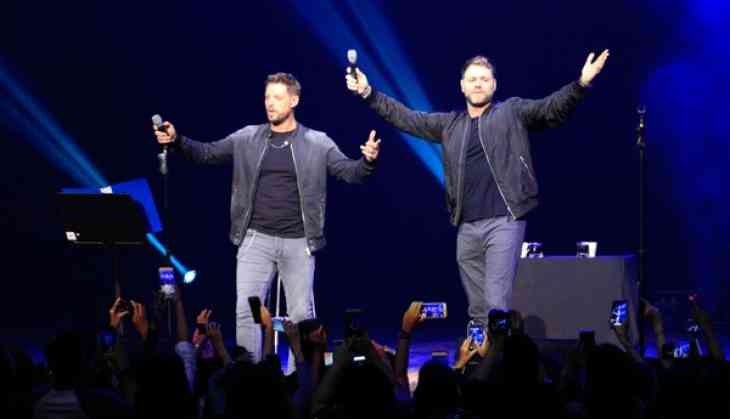 If you are a fan of 'Westlife' and 'Boyzone' then this will definitely be a treat for you. Percept Live, the organiser of Sunburn festival which is an Asia's biggest music festival in Goa, is all set to bring the legendary 'Boyzlife' under their Live Intellectual Property, 'FLY'.
Boyzlife will be performing live in India for the first time in May 2018 for a multi-city tour along with the famous Irish singers-songwriters Keith Duffy from the Band Boyzone and Brian McFadden from Westlife.
The live concert will be held on May 19 in Mumbai and May 20 in Bengaluru, according to a statement from the organisers.
"We are so excited to come to India and sing all of our hits from Boyzone and Westlife. It's going to be a great night, and I hope to see all of our fans there. We both are super excited and looking forward to the India tour," the band members (Brian McFadden and Keith Duffy, Boyzlife) shared their excitement in a joint statement.
Also Read: American metal band System Of A Down returns; live concert in United States after 3 Years
It is Titled 'Boyzlife Live', the live concert will feature the hit tracks of Boyzone and Westlife to celebrate the success of their bands.
Earlier in 2015, the first edition of Percept Live's 'FLY' music festival was held with English singer-songwriter Ed Sheeran.
Manuj Agarwal, CEO, Percept Live, said: "In 2018, Percept Live will not only deliver the best in class music experience to our fans but also scale up in different formats in order to increase our geographical footprint and reach. We will be customising every event pan India in such a manner that fans will get to enjoy a world-class entertainment experience of all genres.
"The Boyzlife India Tour is our attempt to scale up in order to reach a different crowd without compromising on the experience and quality of the intellectual property."
Read More On Catch: American singers Kesha and Bob Dylan dedicates recreation of classic songs to LGBTQ couples