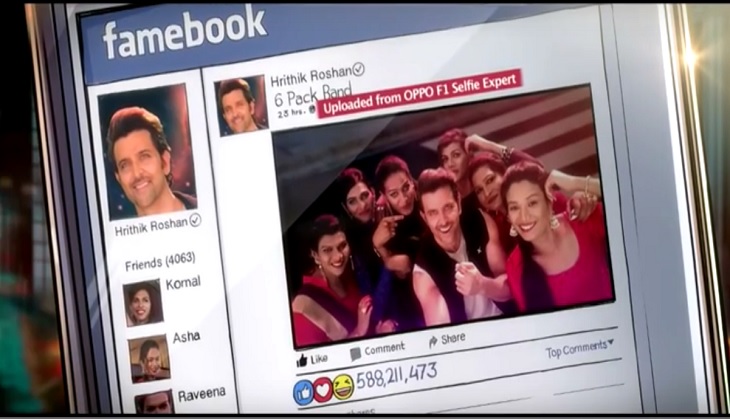 Hrithik Roshan will be seen shaking a leg with the 6-Pack Band, touted to be India's first transgender band, for their latest track Ae Raju.
The latest song, from Brooke Bond Red Label tea in association with Y-Films - the youth films' wing of Yash Raj Films, is a lighter take on the 'Ae Raju' phrase, used to depict transgenders onscreen.
The video features Hrithik encouraging the band members to unleash their inner superheroes. The video went live on the Y-Films YouTube channel on 3 May.
The song salutes the unabated spirit of the transgender community and the actor says he was compelled to be part of the song as it addresses a meaningful message in a fun and entertaining way.
"We cannot just reject them just because they are different from us," Hrithik said. "I've been following the Brooke Bond Red Label 6-pack Band and when I heard that the band is creating a meaningful message in a fun, entertaining way, I had to be a part of it. Shooting with them was an amazing experience," he said.
"I think that one of the main causes of anxiety in the society as a whole is the feeling of differentiation between people. It's important to feel connected to people around you and we cannot just reject them just because they are different from us," the Bang Bang! star added.
Shiva Krishnamurthy, Brooke Bond Red Label spokesperson and Category Head - Tea, Hindustan Unilever Limited, said: "It is a wonderful feeling to see the overwhelming response and accolades that the Brooke Bond Red Label 6 Pack Band has received to date".
"The band has been welcomed with open arms by music lovers. Through our association, we want to spread the message of inclusiveness and encourage people to become more accepting, break barriers and bond over a cup of tea," the spokesperson said.
The band rendered hits via collaborations with Sonu Nigam, Zanai Bhosle and Arjun Kapoor.
-- IANS