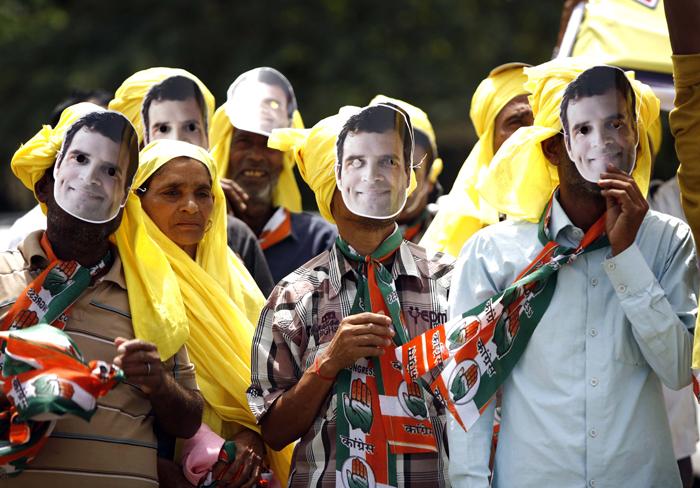 Having previously taken up farmers' issues in Punjab, Odisha and Andhra Pradesh, Congress vice-president Rahul Gandhi set out on a kisan padyatra in Uttar Pradesh on 23 November.
The Congress vice-president will cover Saharanpur's Nakur constituency, and will lend a ear to farmers from Hardakhedi, Sikrikalan and Patni villages and address their problems.
Posters and banners welcoming Rahul Gandhi adorned major roads in Saharanpur.
Troubled times for UP farmers
Congress committee chief from Saharanpur, Sashi Walia, spoke to ANI about the woes of sugarcane farmers in the region.
"Sugarcane farmers are in a pathetic condition, the mills are closed and they are jobless. Crores of rupees of Sugarcane farmers are due to them," he said.
ANI reported that Nakur, in particular, is home to a few defunct sugar mills that have now been privatised.
The Congress' kisan padyatra comes just days after UP Chief Minister Akhilesh Yadav declared 50 of the 75 districts of the state drought-stricken. The unyielding climate has left crores of farmers impoverished in what experts have called the worst year for the farming sector.
What Congress stands to gain
The move is aimed at reinforcing the Congress' image of a party that is heavily invested in the issues and interests of the poor. The padyatra also comes a few months ahead of the Uttar Pradesh assembly polls, that will most likely be held in early 2017. The Congress had adopted a similar strategy ahead of the 2012 UP assembly elections as well.
The Congress has been aggressively following up on its pro-kisan stance of late. Rahul Gandhi has spent the better part of his time post his 57-day sabbatical, in April this year, in opposing the policies of the Modi-government as being anti-farmer and anti-poor. The 45-year-old Congress leader also accused the BJP of practicing "vendetta politics".
The first half of the year also saw the party rallying behind farmers to protest the NDA government's land acquisition ordinance. However, a huge controversy, blockades, stiff opposition by other parties - and the fact that assembly polls were due in predominantly agricultural states - compelled the BJP to let the ordinance lapse on 31 August.
The padyatra however, seems to have earned the Congress some brownie points on Twitter:
While PM roams around world , here is RG who is walking in India,with India@ppccvolunteers #UPwalksWithINC pic.twitter.com/VVhUXnQyvL

- raman_SINGH (@2raman) November 23, 2015
While PM flies all around the world,as a mere Tourist,#UPwalksWithINC

- Ajeet Singh (@ajeetsin) November 23, 2015
Rahul ji is visiting Saharanpur in UP today and will take out Padyatra in support of farmers. #UPwalksWithINC pic.twitter.com/NMe2xXY8Pk

- suraj vibhute (@soorajvibhute) November 23, 2015
Meanwhile, others do not seem as convinced:
#UPwalksWithINC.LOL. Padhyatra is just cheap diversion tactics of #Pappu from fraud in NH case n #BritishBuddhu case

- Badri #BJP4India (@techie_badri) November 23, 2015
haha,understand #CONgress #Buddhu has no work and no states torun volunteers are soo vella that each tweeting #UPwalksWithINC 10 times!

- chetan kurmi (@chetan_kurmi) November 23, 2015
Congress in UP is like an extinct species. The only way it could get any votes is to side with SP or BSP #UPwalksWithINC

- Abhishek (@abhimishra81) November 23, 2015
(Text by Geetika Mantri)